Email Marketing For Chiropractors & Pain Management
If you send your patients tips and ideas focused on their health and wellbeing, they'll always think of you when they need professional care or are asked for a recommendation.

The two perfect tools for the job are an engaging and informative email newsletter combined with matching social media posts. Pulling all this content together is challenging, so let us do it for you.

We update your chiropractic business email newsletter weekly with engaging, informative, and entertaining content. Then we automatically send your newsletter to your contacts. To double the impact, we also automatically post the updated content to your social media accounts. Learn more.

Eliminate the task of building a professional email marketing campaign for your chiropractic business. And eliminate the stress of finding the content.

With the Free Plan, you manage the sending process yourself. With the Pro Plan, we automate the sending process for you. Either way, weekly content updates are included. Start with a Free Plan. Paid plans are only $49.00/month.


Your Chiropractic Business Newsletter
Informative, Engaging, Educational, and Fun
1

Kiss your pain and numbness goodbye. Thousands have already experienced our advanced method of treatment and found freedom from a painful vice-like hold over their health and their lives.
Joan Barr DC
Barr Chiropractic
711 Briarwood Drive
Laurel Springs NJ 08021
2
HOME | APPOINTMENTS | CONTACT
May 31, 2023
3
4
Why You Shrink As You Get Older
It seems that everything shifts as you age. You may notice you get wrinkles, your hair turns gray and even your height changes - in other words, you …
Huffington Post : Summary
5
6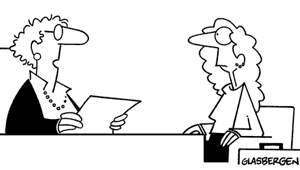 "The nearest parking garage is six blocks away and our elevators are always broken. That's just our ongoing commitment to employee fitness!"


Copyright © Randy Glasbergen
D-Day
Although the term D-Day is used routinely as military lingo for the day an operation or event will take place, for many it is also synonymous with June 6, the day the Allied powers crossed the English Channel and landed on the beaches of Normandy.
The day was Jun 6. What year was it?
Quote of the Week


"Sleep is that golden chain that ties health and our bodies together."
Thomas Dekker
Trivia


What is the largest human organ?
See the answer below.


8
SUBSCRIBE TO OUR NEWSLETTER
Barr Chiropractic | 711 Briarwood Drive | Laurels NJ 08021

9
Joan Barr DC
Barr Chiropractic
711 Briarwood Drive
Laurel Springs NJ 08021
The articles in our publications come from many sources. We do not endorse information or opinions appearing in linked articles. The articles selected are not sponsored, and we assume no responsibility for the accuracy of the information. Copyright for linked articles belongs to the linked source.
Trivia Answer
What is the largest human organ?
Answer: Skin
A Newsletter Station Publication
© All Rights Reserved.
One-to-one communication.


We help you craft a personalized message to connect directly with your patients. Tailor your message as often as you like or keep it hidden entirely. Included is your signature block with a photo, name, business details, and contact information, creating an authentic and professional touch.

Consistent brand reinforcement.


You'll make a lasting impression with a captivating newsletter name or logo. Add a descriptive tagline to amplify your brand message. Your navigation bar can feature multiple links to important pages on your chiropractic business website.

Every issue includes a custom blog.


Elevate your chiropractic business with our exclusive weekly custom blog providing unique branding, enhancing your online presence, and showcasing your expertise. With the flexibility to use our branding or your own, our custom blog is a powerful marketing tool that will set your chiropractic business apart.

Engage with compelling articles.


Your newsletter includes a collection of carefully curated articles that will resonate with your patients. These articles are automatically updated each week, guaranteeing you fresh, interesting, and relevant content to share.

Elevate with branded article summaries.


Your newsletter includes convenient links to concise article summaries. Your personalized newsletter ensures that interesting and timely information is available for a full review or a quick skim.

Maximize exposure with custom ads.


Leverage our platform to showcase exclusive offers, promotions, activities, events, or any content of your choice. Our custom ad feature enables you to captivate your audience and drive engagement, amplifying the impact of your chiropractic business.

Your newsletter is informative and entertaining.


Engaging your customers is effortless with our carefully curated cartoon, trivia, and quote sections. Entertain, surprise, and delight your subscribers, creating a memorable experience they'll eagerly anticipate.

Seamless subscription and easy access to archives.


Accelerate your subscriber growth with our embedded subscription form, allowing you to effortlessly expand your contact list. Additionally, provide quick access to your past newsletter archives, enabling your audience to revisit valuable content at their convenience.

All-inclusive contact information.


Empower your customers to reach out to you with ease. Share your complete address details, phone number, web address, and social media links, ensuring seamless communication between your business and your valued patients.
Bid farewell to the hassle of building email marketing campaigns.
Eliminate the burden of creating professional email marketing campaigns for your chiropractic business. We've simplified the process, saving you valuable time and effort.

Say goodbye to content hunting stress.
Leave the endless search for captivating content behind. With our platform, you gain access to a continuous stream of engaging articles, effortlessly keeping your newsletter fresh and exciting.

Choose the plan that suits you best.
With our Free Plan, you retain full control over the sending process. Upgrade to our Pro Plan, and we'll automate the sending for you, providing seamless and hassle-free delivery with many enhanced features. Both plans include weekly content updates, ensuring your newsletter remains cutting-edge.

Start with the Free Plan and explore the possibilities. Our paid plan is only $49.00 per month, delivering unparalleled value for your investment.