Email Marketing Built For Chiropractors


Make your clients feel special, send them an engaging email newsletter. Everything is managed for you including the content.

Prices start at only $39.00 per month.



Newsletter Sample Below Reduced Size
1. Optional top page message directly from you.

Greetings,

Thousands have already experienced our advanced method of treatment and found freedom from a painful vice-like hold over their health and their lives.

Your Name
Your Business
2. Your business name or logo.

Y

OUR

L

OGO
Your Name
Business Name
Business Address
Email Address
Website
5. Up to 4 navigation links.
Jan 15, 2020
6. Timely article links from popular publications.
Surprising Conditions Chiropractic Can Treat
Around 27 million Americans visit chiropractors every year. That's almost three times the population of New York City! Most of us think of back pain, whiplash and skeletal injuries when we think of chiropractic issues – but …
Alternative Medicine
3 Simple Shifts to Soothe Back Pain
Many Americans suffer from back issues at some point in their lives, yet such conditions are almost unknown in indigenous cultures. The …
Experience Life
7. Two ads from you to promote your business
How to avoid tick-borne illnesses
Ticks can be infected with bacteria, viruses, or parasites. Some of the most common tick-borne diseases in the United States include …
Fox News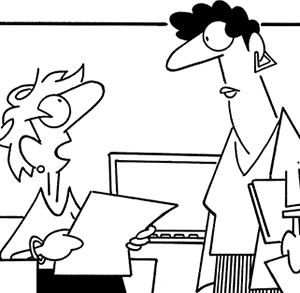 "We're supposed to stop for a mini exercise break twice a day. Do tantrums count?"


Copyright © Randy Glasbergen
*

9. A day in history question.

Boston Thieves Pull Off Historic Robbery
11 men steal more than $2 million from the Brinks Armored Car depot in Boston, Massachusetts. It was the perfect crime - almost - as the culprits weren't caught until January 1956, just days before the statute of limitations for the theft expired.
The day was Jan 17. What year was it?
Quote of the Week


9. A quote and trivia question.

"Early to bed and early to rise, makes a man healthy wealthy and wise"
Benjamin Franklin
Trivia
How many bones does your big toe have?
See the answer below.
| | |
| --- | --- |
| SUBSCRIBE TO OUR NEWSLETTER | NEWSLETTER ARCHIVES |
Your Name
Business Name
Business Address
Email Address
Website
Trivia Answer
How many bones does your big toe have?
Answer: Two, the rest of your toes have only one.
What's Included?
| | |
| --- | --- |
| 1. | An optional top page message directly from you. |
| 2. | Your newsletter name, business name or logo. |
| 3. | Your business address, website and phone number. |
| 4. | An optional photo to add a personal connection. |
| 5. | Up to four navigation links to your website. |
| 6. | Timely article links from popular publications. |
| 7. | Two ads from you to promote your business. |
| 8. | A humorous cartoon to entertain your contacts. |
| 9. | A day in history, quote and trivia question. |
| 10. | A subscribe form to grow your contact list. |
| 11. | A link to your archived newsletters. |
| 12. | Links to your social media sites. |
| 13. | Your newsletter design looks great on any devise. |
| 14. | Email list updates to add and/or remove subscribers. |
| 15. | Sending to your contacts up to four times each month. |
| 16. | An option to auto post to your Facebook page. |
| 17. | Reports to view your contact activity. |
| 18. | Everything included, you don't need to do a thing. |
MONTHLY PRICING

List Size *
Price/Month
Self Send
$39.00
Up to 250
$39.00
251-500
$49.00
501-1000
$74.00
1001-2000
$99.00
2001-3000
$124.00
3001-4000
$149.00
4001-5000
$174.00
5001-6000
$199.00
6001-7000
$224.00
7001-8000
$249.00
8001-9000
$274.00
9001-10000
$299.00
Over 10000
Contact Us
* After the initial activation fee of $9.00, monthly pricing is based on your email list size.
Why Does Email Marketing Work?
Business People Love Newsletter Station
Lisa Grooms
Owner, Sand Dollar Accounting
"My participation in this newsletter has been overwhelmingly positive. My clients take time to let me know that they love the content. Every week the newsletter makes my professional image increase positively. Thank you."
Frank Rubin
President, Amerivest Group
"The service you provide is second to none. The software is easy to navigate allowing me to update my contact list with ease. Thank you again for this great product. I will continue to recommend it to associates."
Shellie West
CEO & Founder, Bluffton Chamber of Commerce
"I have received very good comments on our newsletter. We have a greater list of sponsors that are participating. This is added value for our members and creates potential sponsors for the newsletter. Great job!"
Millions of Newsletters Sent Every Month
Supporting businesses across the US.
Email Marketing That Runs Itself