Newsletters For Promotional Products Suppliers


The #1 rule in marketing is frequency. You need to consistently communicate with your customers if you expect to grow. The perfect tool for the job is an engaging and informative email newsletter that runs itself.


Pro, Flex, & Free Plans
No credit card required.
Email Newsletters for Promotional Products Suppliers
It's run itself. You can set it and forget it.
Promotional Products Business Email Newsletter
Loaded with content and ready to send
Jan 19, 2022
Trends that will steer marketing in 2022
The first weeks of 2022 have carried an unwelcome sense of deja vu. Major events are getting canceled, imperiling ad dollars. Overwhelmed hospitals and patchwork pandemic protocols have cast a pall over the national mood. Amid the chaos, brand leaders need to lock in their agendas for a …
Marketing Dive
3 Ways to Avoid Marketing-Budget Traps
Ineffective marketing and poor Internet presence are among the top six reasons why 75% of new businesses fail to become successful in the long term, according …
Entrepreneur
Video options in a fragmented world
While short-form video boosts discoverability, longer formats are critical for brand-building and storytelling. As the parent of two teenage girls, I'm …
Marketing Dive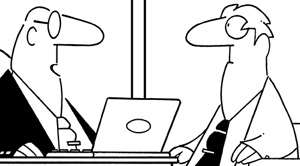 "Good news - our Kickstarter campaign has raised $2.13 toward your bonus."


Copyright © Randy Glasbergen
What Year Was It?
Edgar Allan Poe is Born
Poet, author and literary critic Edgar Allan Poe is born in Boston, Massachusetts.
The day was Jan 19. What year was it?
Quote of the Week
"Litigation is the basic legal right which guarantees every corporation its decade in court."
David Porter
Trivia
The children's literature section of the publisher Penguin Books works under what name?
See the answer below.
SUBSCRIBE TO OUR NEWSLETTER
Color Themes
Your newsletter can use a standard color theme, a color theme to match you website, your favorite team, or any color. Click the color boxes to see options.

Newsletter Name
An engaging and memorable newsletter name, using a font to match your brand, will keep you top of mind with your readers. You can use "Branding Beat" for you newsletter name, or any name you wish. Click the color boxes to see font options.
Business People Love Newsletter Station
Lisa Grooms
Owner, Sand Dollar Accounting
"My participation in this newsletter has been overwhelmingly positive. My clients take time to let me know that they love the content. Every week the newsletter makes my professional image increase positively. Thank you."
Frank Rubin
President, Amerivest Group
"The service you provide is second to none. The software is easy to navigate allowing me to update my contact list with ease. Thank you again for this great product. I will continue to recommend it to associates."
Shellie West
CEO & Founder, Bluffton Chamber of Commerce
"I have received very good comments on our newsletter. We have a greater list of sponsors that are participating. This is added value for our members and creates potential sponsors for the newsletter. Great job!"
Millions of Newsletters Sent Every Month
Supporting businesses across the US.
Why Does Email Marketing Work?