Newsletters For Nail Salons


Make sure your customers feel special. Delight them with an engaging email newsletter designed and custom-built for your nail salon business. We manage everything for you, including the content.

You can start with a free trial. No credit card is required. When your ready to start sending your nail salon business email newsletter, the price starts at only $39.00 per month.


Email Newsletters for Nail Salons
It's run itself. You can set it and forget it.
Nail Salon Business Email Newsletter
Loaded with content and ready to send
Jul 21, 2021
Remove Acrylics at Home Without Damaging Your Nails
Need to get your acrylic nails off, but don't have the time or patience to go to the salon? We have been there — but it pays to remove that manicure correctly instead of, say, prying them from your natural nails (ouch!) or mindlessly …
Good Housekeeping
The Best Fall Fashion Campaigns
We may still be at the very start of the fall 2021 season, but its accompanying campaigns are already making waves. And depending on …
W Magazine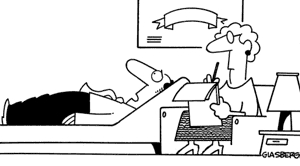 "I'm a fun-loving shopaholic trapped in the body of a prudent investor!"


Copyright © Randy Glasbergen
What Year Was It?
Miss America Resigns
21-year-old Vanessa Williams gives up her Miss America title, the first resignation in the pageant's history, after Penthouse magazine announces plans to publish nude photos of the beauty queen in its September issue.
The day was Jul 23. What year was it?
Quote of the Week
"Virtue has a veil, vice a mask."
Victor Hugo
Trivia
During the Victorian era, how long did woman typically wear black to mourn their husbands' death?
See the answer below.
SUBSCRIBE TO OUR NEWSLETTER
Color Themes
Your newsletter can use a standard color theme, a color theme to match you website, your favorite team, or any color. Click the color boxes to see options.

Newsletter Name
An engaging and memorable newsletter name, using a font to match your brand, will keep you top of mind with your readers. You can use "The Finger Files" for you newsletter name, or any name you wish. Click the color boxes to see font options.
Business People Love Newsletter Station
Lisa Grooms
Owner, Sand Dollar Accounting
"My participation in this newsletter has been overwhelmingly positive. My clients take time to let me know that they love the content. Every week the newsletter makes my professional image increase positively. Thank you."
Frank Rubin
President, Amerivest Group
"The service you provide is second to none. The software is easy to navigate allowing me to update my contact list with ease. Thank you again for this great product. I will continue to recommend it to associates."
Shellie West
CEO & Founder, Bluffton Chamber of Commerce
"I have received very good comments on our newsletter. We have a greater list of sponsors that are participating. This is added value for our members and creates potential sponsors for the newsletter. Great job!"
Millions of Newsletters Sent Every Month
Supporting businesses across the US.
Why Does Email Marketing Work?