Newsletters For Lawn Care Services


Make sure your customers feel special. Delight them with an engaging email newsletter designed and custom-built for your lawn care service. We manage everything for you, including the content.

You can start with a free trial. No credit card is required. When your ready to start sending your lawn care service email newsletter, the price starts at only $39.00 per month.


Email Newsletters for Lawn Care Services
It's run itself. You can set it and forget it.
Lawn Care Service Email Newsletter
Loaded with content and ready to send
Jul 21, 2021
Managing Your Lawn In Extreme Heat
A lawn in summer heat is usually a brown lawn, but that doesn't mean it has to be unhealthy or that it can't rebound. Many people choose to let their grass brown up and return to green on cooler days. Whether you let this happen …
Gardening Know How
Make your garden butterfly friendly
Most gardeners welcome the sight of butterflies tumbling around our herbaceous borders. Common species such as the small tortoiseshell …
Gardeners World.com
How to Provide Shade in a Small Yard
In a compact yard, it can be tricky to provide sunny and shaded spots, but there are ways to do it. Take a look at these seven gorgeous …
Houzz
Cherries: how to grow your own
If you have a small plot, dwarf varieties do well in containers or fan-trained against a wall or fence, and the sharper tasting 'Morello' …
The English Garden
Identify and Control Root Maggots
The sun is blazing down on your vegetable patch, and as the day heats up, you notice your cabbage is looking a little wilted. That's …
Gardener's Path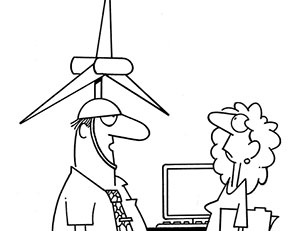 "Wind may be the energy source of the future, but it's a poor substitute for coffee."


Copyright © Randy Glasbergen
What Year Was It?
Miss America Resigns
21-year-old Vanessa Williams gives up her Miss America title, the first resignation in the pageant's history, after Penthouse magazine announces plans to publish nude photos of the beauty queen in its September issue.
The day was Jul 23. What year was it?
Quote of the Week
"Flowers are restful to look at. They have neither emotions nor conflicts."
Sigmund Freud
Trivia
Approximately how much plant life is found in the ocean?
See the answer below.
SUBSCRIBE TO OUR NEWSLETTER
Color Themes
Your newsletter can use a standard color theme, a color theme to match you website, your favorite team, or any color. Click the color boxes to see options.

Newsletter Name
An engaging and memorable newsletter name, using a font to match your brand, will keep you top of mind with your readers. You can use "Backyard Envy" for you newsletter name, or any name you wish. Click the color boxes to see font options.
Business People Love Newsletter Station
Lisa Grooms
Owner, Sand Dollar Accounting
"My participation in this newsletter has been overwhelmingly positive. My clients take time to let me know that they love the content. Every week the newsletter makes my professional image increase positively. Thank you."
Frank Rubin
President, Amerivest Group
"The service you provide is second to none. The software is easy to navigate allowing me to update my contact list with ease. Thank you again for this great product. I will continue to recommend it to associates."
Shellie West
CEO & Founder, Bluffton Chamber of Commerce
"I have received very good comments on our newsletter. We have a greater list of sponsors that are participating. This is added value for our members and creates potential sponsors for the newsletter. Great job!"
Millions of Newsletters Sent Every Month
Supporting businesses across the US.
Why Does Email Marketing Work?