Newsletters For Lawn Care Services


Make your customers feel special. Delight them with an engaging email newsletter designed and custom-built for your lawn care service. We manage everything for you, including the content.


Pro, Flex, & Free Plans
No credit card required.
Email Newsletters for Lawn Care Services
It's run itself. You can set it and forget it.
Lawn Care Service Email Newsletter
Loaded with content and ready to send
Oct 20, 2021
Grass That Can Be Planted in Fall and Winter
Tall fescue is a great place to start when considering which sod types to lay down this fall and winter. And it's easy to see why. It's drought tolerant, grows in lots of regions, looks fantastic in most landscapes and resists …
Family Handyman
How to Store Squash for Winter
It looks like fall is finally coming in, and that means it will soon be time to store squash for winter. Depending on the variety, winter …
Minnesota State Horticultural Society
Ways To Stay Warm In The Garden
Summer's warm days are waning at this writing and fall's cooler temps are around the corner so it's time to get prepared to keep warm …
Gardening Know How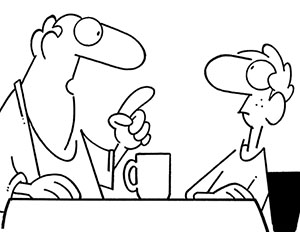 "My generation worked hard to save the planet! In 1972, I sewed an Earth Day patch on my jeans!"


Copyright © Randy Glasbergen
What Year Was It?
Guggenheim Museum Opens in New York City
On New York City's Fifth Avenue, thousands of people line up outside a bizarrely shaped white concrete building. It was opening day at the new Guggenheim Museum, home to one of the world's top collections of contemporary art.
The day was Oct 21. What year was it?
Quote of the Week
"I want it said of me by those who knew me best, that I always plucked a thistle and planted a flower where I thought a flower would grow."
Abraham Lincoln
Trivia
How many seeds does the average strawberry have?
See the answer below.
SUBSCRIBE TO OUR NEWSLETTER
Color Themes
Your newsletter can use a standard color theme, a color theme to match you website, your favorite team, or any color. Click the color boxes to see options.

Newsletter Name
An engaging and memorable newsletter name, using a font to match your brand, will keep you top of mind with your readers. You can use "Backyard Envy" for you newsletter name, or any name you wish. Click the color boxes to see font options.
Business People Love Newsletter Station
Lisa Grooms
Owner, Sand Dollar Accounting
"My participation in this newsletter has been overwhelmingly positive. My clients take time to let me know that they love the content. Every week the newsletter makes my professional image increase positively. Thank you."
Frank Rubin
President, Amerivest Group
"The service you provide is second to none. The software is easy to navigate allowing me to update my contact list with ease. Thank you again for this great product. I will continue to recommend it to associates."
Shellie West
CEO & Founder, Bluffton Chamber of Commerce
"I have received very good comments on our newsletter. We have a greater list of sponsors that are participating. This is added value for our members and creates potential sponsors for the newsletter. Great job!"
Millions of Newsletters Sent Every Month
Supporting businesses across the US.
Why Does Email Marketing Work?