Newsletters For House Cleaners


The #1 rule in marketing is frequency. You need to consistently communicate with your customers if you expect to grow. The perfect tool for the job is an engaging and informative email newsletter that runs itself.


Pro, Flex, & Free Plans
No credit card required.
Email Newsletters for House Cleaners
It's run itself. You can set it and forget it.
Cleaning Business Email Newsletter
Loaded with content and ready to send
Dec 1, 2021
The Efficient Way to Clean Just Before Guests Arrive
Having people over is always more work than you think it's going to be. Even if you go in with the intention of keeping it casual, there's usually the moment about a half hour before guests are set to arrive that you realize that …
Lifehacker
What to Know About Recessed Lighting
Recessed lighting refers to lighting fixtures built up into a ceiling, rather than hanging from it. The bulb can be enclosed in a …
Family Handyman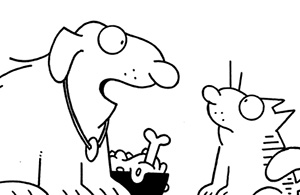 "The fleas moved out. They found a dog with more closet space."


Copyright © Randy Glasbergen
What Year Was It?
A Streetcar Named Desire Opens
Marlon Brando's famous cry of "STELLA!" first booms across a Broadway stage, electrifying the audience at the Ethel Barrymore Theater during the first performance of A Streetcar Named Desire.
The day was Dec 3. What year was it?
Quote of the Week
"He is the happiest, be he king or peasant, who finds peace in his home."
Johann Wolfgang von Goethe
Trivia
What was the first territorial acquisition made by the U.S. Government?
See the answer below.
SUBSCRIBE TO OUR NEWSLETTER
Color Themes
Your newsletter can use a standard color theme, a color theme to match you website, your favorite team, or any color. Click the color boxes to see options.

Newsletter Name
An engaging and memorable newsletter name, using a font to match your brand, will keep you top of mind with your readers. You can use "Dust Busters" for you newsletter name, or any name you wish. Click the color boxes to see font options.
Business People Love Newsletter Station
Lisa Grooms
Owner, Sand Dollar Accounting
"My participation in this newsletter has been overwhelmingly positive. My clients take time to let me know that they love the content. Every week the newsletter makes my professional image increase positively. Thank you."
Frank Rubin
President, Amerivest Group
"The service you provide is second to none. The software is easy to navigate allowing me to update my contact list with ease. Thank you again for this great product. I will continue to recommend it to associates."
Shellie West
CEO & Founder, Bluffton Chamber of Commerce
"I have received very good comments on our newsletter. We have a greater list of sponsors that are participating. This is added value for our members and creates potential sponsors for the newsletter. Great job!"
Millions of Newsletters Sent Every Month
Supporting businesses across the US.
Why Does Email Marketing Work?