Newsletters For Florists


Make your customers feel special. Delight them with an engaging email newsletter designed and custom-built for your florist business. We manage everything for you, including the content.


Pro, Flex, & Free Plans
No credit card required.
Email Newsletters for Florists
It's run itself. You can set it and forget it.
Florist Business Email Newsletter
Loaded with content and ready to send
Sep 22, 2021
Common Garden Pests and How to Control Them
Most insects raise no concern when spotted in the garden. In fact, many are welcome guests that we invite with an array of plants they love to visit. But we gardeners know well that there are insects that can do some major …
Fine Gardening
What To Know About Pine Needle Mulch
If you're looking for a low maintenance and long-lasting mulch option, pine needles might be just what you need. Pine needle mulch …
Family Handyman
How to create a herb garden
Herbs are a must in any garden – not only can they be used in cooking, teas, cocktails or herbal remedies, but they have beautiful …
Gardeners World.com
Build a Rain Garden Step-by-Step
Rain gardens are perfect solutions if you want to prevent stormwater runoff from flooding and damaging your yard, driveway, and home's …
Home Advisor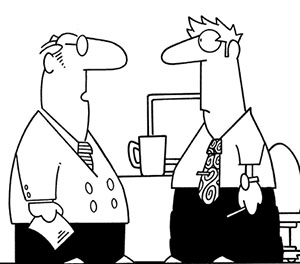 "Due to our new green policies, I'm afraid we have to let you know. Your bad breath is destroying the ozone."


Copyright © Randy Glasbergen
What Year Was It?
Lincoln Issues Emancipation Proclamation
President Abraham Lincoln issues a preliminary Emancipation Proclamation, which sets a date for the freedom of more than 3 million black slaves in the United States and recasts the Civil War as a fight against slavery.
The day was Sep 22. What year was it?
Quote of the Week
"A flower falls, even though we love it; and a weed grows, even though we do not love it."
Dogen
Trivia
In 1872, what type of tree was measured at 435 feet tall - the tallest tree ever recorded?
See the answer below.
SUBSCRIBE TO OUR NEWSLETTER
Color Themes
Your newsletter can use a standard color theme, a color theme to match you website, your favorite team, or any color. Click the color boxes to see options.

Newsletter Name
An engaging and memorable newsletter name, using a font to match your brand, will keep you top of mind with your readers. You can use "Flower Focus" for you newsletter name, or any name you wish. Click the color boxes to see font options.
Business People Love Newsletter Station
Lisa Grooms
Owner, Sand Dollar Accounting
"My participation in this newsletter has been overwhelmingly positive. My clients take time to let me know that they love the content. Every week the newsletter makes my professional image increase positively. Thank you."
Frank Rubin
President, Amerivest Group
"The service you provide is second to none. The software is easy to navigate allowing me to update my contact list with ease. Thank you again for this great product. I will continue to recommend it to associates."
Shellie West
CEO & Founder, Bluffton Chamber of Commerce
"I have received very good comments on our newsletter. We have a greater list of sponsors that are participating. This is added value for our members and creates potential sponsors for the newsletter. Great job!"
Millions of Newsletters Sent Every Month
Supporting businesses across the US.
Why Does Email Marketing Work?