Newsletters For Caterers


Make your customers feel special. Delight them with an engaging email newsletter designed and custom-built for your catering business. We manage everything for you, including the content.


Pro, Flex, & Free Plans
No credit card required.
Email Newsletters for Caterers
It's run itself. You can set it and forget it.
Catering Business Email Newsletter
Loaded with content and ready to send
Sep 22, 2021
Fall Recipes for Entertaining
Hosting parties and get-togethers with these hearty recipes is just what you need as the days get chillier. Hearty Sirloin Chili: This ultra-meaty chili gets great Southwestern flavor from jalapeno peppers and chili powder …
Food Network
Fallen Chocolate Soufflé
The stunning, rich Fallen Chocolate Soufflé has the fudgy texture and cocoa decadence worth falling in love with. Baked in the beautiful …
Bake From Scratch
Green Tomato Spice Cake
What? Green Tomato Spice Cake? Brie said "gross", Ryan made a face. Doug thought I was crazy. Yet, they kept eating it. They had no idea …
Daily Dish Recipes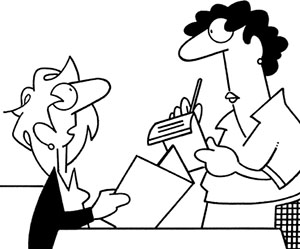 "I'd like a garden salad, some fresh fruit and a slice of tofu carefully arranged to look like a cheeseburger, shake and fries."


Copyright © Randy Glasbergen
What Year Was It?
Lincoln Issues Emancipation Proclamation
President Abraham Lincoln issues a preliminary Emancipation Proclamation, which sets a date for the freedom of more than 3 million black slaves in the United States and recasts the Civil War as a fight against slavery.
The day was Sep 22. What year was it?
Quote of the Week
"The table is a meeting place, a gathering ground, the source of sustenance and nourishment, festivity, safety, and satisfaction. A person cooking is a person giving: Even the simplest food is a gift.:
Laurie Colwin
Trivia
What is one of the most popular pizza toppings in Brazil?
See the answer below.
SUBSCRIBE TO OUR NEWSLETTER
Color Themes
Your newsletter can use a standard color theme, a color theme to match you website, your favorite team, or any color. Click the color boxes to see options.

Newsletter Name
An engaging and memorable newsletter name, using a font to match your brand, will keep you top of mind with your readers. You can use "Fresh Thoughts" for you newsletter name, or any name you wish. Click the color boxes to see font options.
Business People Love Newsletter Station
Lisa Grooms
Owner, Sand Dollar Accounting
"My participation in this newsletter has been overwhelmingly positive. My clients take time to let me know that they love the content. Every week the newsletter makes my professional image increase positively. Thank you."
Frank Rubin
President, Amerivest Group
"The service you provide is second to none. The software is easy to navigate allowing me to update my contact list with ease. Thank you again for this great product. I will continue to recommend it to associates."
Shellie West
CEO & Founder, Bluffton Chamber of Commerce
"I have received very good comments on our newsletter. We have a greater list of sponsors that are participating. This is added value for our members and creates potential sponsors for the newsletter. Great job!"
Millions of Newsletters Sent Every Month
Supporting businesses across the US.
Why Does Email Marketing Work?