Email Marketing Built For Business Brokers


Make sure your clients feel special, delight them with an engaging email newsletter. Everything is managed for you including the content.

Prices start at only $39.00 per month.



No credit card required.
Email Marketing That Runs Itself
Customized And Loaded With Content
Color Themes
Your newsletter can use a standard color theme, a color theme to match you website, your favorite team, or any color. Click the color boxes to see options.

Newsletter Name
An engaging and memorable newsletter name, using a font to match your brand, will keep you top of mind with your readers. You can use "Business Briefing" for you newsletter name, or any name you wish. Click the color boxes to see font options.
Apr 7, 2021
Engaging Articles and News Stories
Your newsletter includes links to several engaging articles designed to appeal to your clients.
Ways to Boost Your Startup Business
Starting a new business can certainly be a challenging task, but it can also be immensely rewarding. In the past year, thousands of budding entrepreneurs have taken the leap into running their own business as a way of …
Startup Magazine
You Own Custom Ads
Your newsletter includes custom ads to showcase offers, promotions, activities, events or anything you wish.
Entertaining Cartoon, Trivia and Quote
Your newsletter includes content to engage and entertain your clients.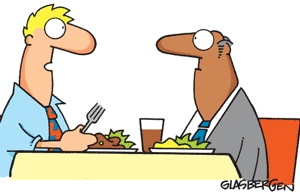 "I'm looking for a mentor who will show me how to get rich without boring me with a lot of advice."


Copyright © Randy Glasbergen
What Year Was It?
Robert E. Lee Surrenders
At Appomattox, Virginia, Confederate General Robert E. Lee surrenders his 28,000 troops to Union General Ulysses S. Grant, effectively ending the American Civil War.
The day was Apr 9. What year was it?
Quote of the Week
"It is not from the benevolence of the butcher, the brewer, or the baker that we expect our dinner, but from their regard to their own interest."
Adam Smith
Trivia
In the 1970s, 'The Chicago Boys' were a group of 25 economists working under which South American dictator's administration to create a free market economy?
See the answer below.
Subscribe and Archives Links
Your newsletter includes links to a subscribe form to grow you list, and a link to past newsletter archives.
SUBSCRIBE TO OUR NEWSLETTER
Business People Love Newsletter Station
Lisa Grooms
Owner, Sand Dollar Accounting
"My participation in this newsletter has been overwhelmingly positive. My clients take time to let me know that they love the content. Every week the newsletter makes my professional image increase positively. Thank you."
Frank Rubin
President, Amerivest Group
"The service you provide is second to none. The software is easy to navigate allowing me to update my contact list with ease. Thank you again for this great product. I will continue to recommend it to associates."
Shellie West
CEO & Founder, Bluffton Chamber of Commerce
"I have received very good comments on our newsletter. We have a greater list of sponsors that are participating. This is added value for our members and creates potential sponsors for the newsletter. Great job!"
Millions of Newsletters Sent Every Month
Supporting businesses across the US.
Why Does Email Marketing Work?