Newsletters For Business Brokers


Make your clients feel special. Delight them with an engaging email newsletter designed and custom-built for your business brokerage. We manage everything for you, including the content.


Pro, Flex, & Free Plans
No credit card required.
Email Newsletters for Business Brokers
It's run itself. You can set it and forget it.
Business Brokerage Email Newsletter
Loaded with content and ready to send
Sep 22, 2021
Tips for Selling Your Company
In 2010, entrepreneur and venture capitalist Tony Conrad sold About.me, a network of personal-profile websites, to AOL for a reported $35 million. Two years later, Conrad, who stayed on as CEO, bought back the business for a fraction …
Inc.
Keys to a successful company
A truly successful company is not one that is profitable. It is the one that receives profits , but also delivers value to consumers …
Entrepreneur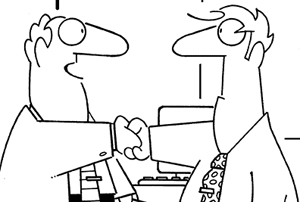 "I stopped to smell the roses. When I came back 15 minutes later, my company was bankrupt, my money was gone and all of my customers were suing me."


Copyright © Randy Glasbergen
What Year Was It?
Lincoln Issues Emancipation Proclamation
President Abraham Lincoln issues a preliminary Emancipation Proclamation, which sets a date for the freedom of more than 3 million black slaves in the United States and recasts the Civil War as a fight against slavery.
The day was Sep 22. What year was it?
Quote of the Week
"Don't worry about people stealing your ideas. If your ideas are any good, you'll have to ram them down people's throats."
Howard Aiken
Trivia
What product invented by Frederick Walton in 1864 became so widely used and 'stepped on' that the name became generic just 14 years after its invention?
See the answer below.
SUBSCRIBE TO OUR NEWSLETTER
Color Themes
Your newsletter can use a standard color theme, a color theme to match you website, your favorite team, or any color. Click the color boxes to see options.

Newsletter Name
An engaging and memorable newsletter name, using a font to match your brand, will keep you top of mind with your readers. You can use "Business Briefing" for you newsletter name, or any name you wish. Click the color boxes to see font options.
Business People Love Newsletter Station
Lisa Grooms
Owner, Sand Dollar Accounting
"My participation in this newsletter has been overwhelmingly positive. My clients take time to let me know that they love the content. Every week the newsletter makes my professional image increase positively. Thank you."
Frank Rubin
President, Amerivest Group
"The service you provide is second to none. The software is easy to navigate allowing me to update my contact list with ease. Thank you again for this great product. I will continue to recommend it to associates."
Shellie West
CEO & Founder, Bluffton Chamber of Commerce
"I have received very good comments on our newsletter. We have a greater list of sponsors that are participating. This is added value for our members and creates potential sponsors for the newsletter. Great job!"
Millions of Newsletters Sent Every Month
Supporting businesses across the US.
Why Does Email Marketing Work?