Email Marketing Built For Staffing Agencies


Make sure your clients feel special, delight them with an engaging email newsletter. Everything is managed for you including the content.

Prices start at only $39.00 per month.



No credit card required.
Your Newsletter Is Loaded With Content
Jan 13, 2021
Spot a potentially toxic hire during a job interview
It costs about $4,425 to recruit and hire an employee and more than three times that if they're an executive. You don't want to make a mistake, especially hiring an employee that disrupts the workplace. When you avoid …
Fast Company
Imagine a Hiring Process Without Resumes
Despite near record unemployment during the Covid-19 recession, plenty of employers will face major challenges in hiring low-skill, entry …
Harvard Business Review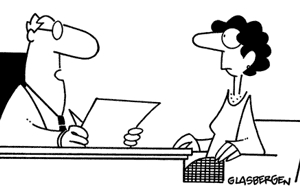 "You have been accused of cruel and abusive behavior. Is it true you made your staff sit through a PowerPoint presentation?"


Copyright © Randy Glasbergen
What Year Was It?
Packers Face Chiefs in First Super Bowl
At the Los Angeles Coliseum, the Green Bay Packers beat the Kansas City Chiefs in the first-ever world championship game of American football.
The day was Jan 15. What year was it?
Quote of the Week
"It's not about ideas. It's about making ideas happen."
Scott Belsky, Behance co-founder
Trivia
What famous 3-word ad line of an apparel company was coined by Dan Wieden who got it from the final words of executed murderer Gary Gilmore?
See the answer below.
SUBSCRIBE TO OUR NEWSLETTER
Your Name
Business Name
Business Address
Business Website
Phone / Email
The articles in our publications come from many sources. We do not endorse information or opinions appearing in linked articles. The articles selected are not sponsored, and we assume no responsibility for the accuracy of the information. Copyright for linked articles belongs to the linked source.
A Newsletter Station Publication
© All Rights Reserved.
Trivia Answer
What famous 3-word ad line of an apparel company was coined by Dan Wieden who got it from the final words of executed murderer Gary Gilmore?
Answer: "Just Do It" (Nike)