Jan 23, 2019
How important is Social Media check while hiring employees?
It already seems that it was a decade back when a candidate would share a resume/ CV/ biodata with an average length varying anywhere between 2 pages to 20 pages. HR would go through the resume for education, experience, family ...
People Matters
Ask these questions before every meeting
Here's a sad reality: Managers spend anywhere from 35% to 50% of their time in meetings, and yet executives consider over half of those meetings ...
Fast Company
Alternative ways to fund your startup
It has been discovered that over 25 million Americans currently own a startup business and this number is expected to increase. Still, it ...
The Startup Magazine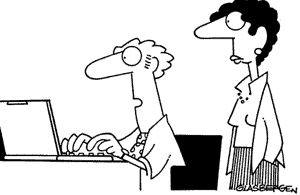 "I was told to keep my presentation interesting. How do you program a projector to explode?"


Copyright © Randy Glasbergen
What Year Was It?
Wham-O Produces First Frisbees
Machines at the Wham-O toy company roll out the first batch of their aerodynamic plastic discs - now known to millions of fans all over the world as Frisbees.
The day was Jan 23. What year was it?
Quote of the Week
"Chase the vision, not the money, the money will end up following you."
Tony Hsieh, Zappos CEO
Trivia
The firm Sterling Cooper featured in the hit TV series Mad Men is located in what part of New York?
See the answer below.
SUBSCRIBE TO OUR NEWSLETTER