Email Marketing Built For Restaurants


Make sure your customers feel special, delight them with an engaging email newsletter. Everything is managed for you including the content.

Prices start at only $39.00 per month.


No credit card required.
Your Newsletter Is Loaded With Content
Feb 12, 2020
How to Eat Clean: 5 Tips to Keep You on Track
From reading nutrition labels to watching your added sugar intake, you'll be eating healthier in no time! Clean eating is all the rage these days, but what does it entail? Ultimately, it boils down to eating whole, minimally …
Taste of Home
PB&J Bread Pudding
Is there a limit to the delicious ways to use peanut butter and jelly? We haven't found it yet—and we're thoroughly enjoying the search …
Taste Of The South
Make Perfect French Fries
This weekend I was down in Ft. Lauderdale with my wife for a weekend break from the cold. It also happened to be Super Bowl weekend so …
The Reluctant Gourmet
How to Clean Every Type of Pan
Chances are, you don't cook with just one type of pan. There's Grandma's cast-iron skillet for sizzling bacon, your trusty stainless …
Taste Of Home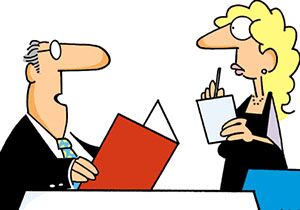 "I can't drink alcohol on my low-carb diet. I'll just have a couple of shots of gravy with a twist of bacon."


Copyright © Randy Glasbergen
What Year Was It?
Madame Butterfly Premieres
Giacomo Puccini's opera Madame Butterfly premieres at the La Scala theatre in Milan, Italy.
The day was Feb 17. What year was it?
Quote of the Week
"The more colorful the food, the better. I try to add color to my diet, which means vegetables and fruits."
Misty May-Treanor
Trivia
What fast-food chain founded in 1964 was named for brothers Forrest and LeRoy Raffel?
See the answer below.
SUBSCRIBE TO OUR NEWSLETTER
Your Name
Business Name
Business Address
Business Website
Phone / Email
The articles in our publications come from many sources. We do not endorse information or opinions appearing in linked articles. The articles selected are not sponsored, and we assume no responsibility for the accuracy of the information. Copyright for linked articles belongs to the linked source.
A Newsletter Station Publication
© All Rights Reserved.
Trivia Answer
What fast-food chain founded in 1964 was named for brothers Forrest and LeRoy Raffel?
Answer: Arby's. The name stands for RB--Raffel Brothers.