Email Marketing Built For Physical Therapists


Make sure your patients feel special, delight them with an engaging email newsletter. Everything is managed for you including the content.

Prices start at only $39.00 per month.



No credit card required.
Your Newsletter Is Loaded With Content
Oct 21, 2020
Stretches that Chiropractors Do Every Morning
To start you day off right, a chiropractor says you should give your body a good stretch before you anything else. "Stretching in the morning helps warm the body up for the day. It gets your muscles used to moving and helps …
Well and Good
Take the Back Pain Out of Backpacks
Backpacks can mean backaches for schoolchildren, but an orthopedic surgeon has advice for parents and kids about how to keep soreness …
MedicineNet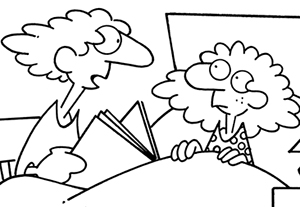 "Cinderella lived happily ever after until a plastic surgeon made her look sort of like a cat."


Copyright © Randy Glasbergen
What Year Was It?
Cuban Missile Crisis
In a televised speech of extraordinary gravity, President John F. Kennedy announces that U.S. spy planes have discovered Soviet missile bases in Cuba.
The day was Oct 22. What year was it?
Quote of the Week
"Early to bed and early to rise makes a man healthy, wealthy and wise."
Benjamin Franklin
Trivia
Dean Kamen, the inventor of which self-balancing transportation device said "walking is a remnant of the Dark Ages, an unpleasant time-waster that technology needs to eradicate"?
See the answer below.
SUBSCRIBE TO OUR NEWSLETTER
Your Name
Business Name
Business Address
Business Website
Phone / Email
The articles in our publications come from many sources. We do not endorse information or opinions appearing in linked articles. The articles selected are not sponsored, and we assume no responsibility for the accuracy of the information. Copyright for linked articles belongs to the linked source.
A Newsletter Station Publication
© All Rights Reserved.
Trivia Answer
Dean Kamen, the inventor of which self-balancing transportation device said "walking is a remnant of the Dark Ages, an unpleasant time-waster that technology needs to eradicate"?
Answer: Segway