Email Marketing Built For Veterinarians


Make sure your customers feel special, delight them with an engaging email newsletter. Everything is managed for you including the content.

Prices start at only $39.00 per month.



No credit card required.
Your Newsletter Is Loaded With Content
Oct 21, 2020
Help Your Dog Overcome Allergies
Did you know that allergies can be a real pain for your dog? Like their human parents, some dogs can develop allergies as well. Dogs can be particularly sensitive to heavy pollen, cleaning chemicals, cigarette smoke, perfumes …
The Dogington Post
Hyperthyroidism and your cat
Most cat caregivers know that a change in appetite and weight is cause for concern. In most cases, suppressed appetite leads to weight …
Animal Wellness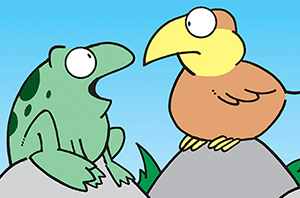 "Ribbit, ribbit, ribbit... that was a secret language my brother and I used so our parents wouldn't know what we were saying."


Copyright © Randy Glasbergen
What Year Was It?
Guggenheim Museum Opens in New York City
On New York City's Fifth Avenue, thousands of people line up outside a bizarrely shaped white concrete building. It was opening day at the new Guggenheim Museum, home to one of the world's top collections of contemporary art.
The day was Oct 21. What year was it?
Quote of the Week
"Time spent with cats is never wasted."
Sigmund Freud
Trivia
What was the first animal to be domesticated?
See the answer below.
SUBSCRIBE TO OUR NEWSLETTER
Your Name
Business Name
Business Address
Business Website
Phone / Email
The articles in our publications come from many sources. We do not endorse information or opinions appearing in linked articles. The articles selected are not sponsored, and we assume no responsibility for the accuracy of the information. Copyright for linked articles belongs to the linked source.
A Newsletter Station Publication
© All Rights Reserved.
Trivia Answer
What was the first animal to be domesticated?
Answer: Goats