Email Marketing Built For Nail Salons


Make sure your customers feel special, delight them with an engaging email newsletter. Everything is managed for you including the content.

Prices start at only $39.00 per month.



No credit card required.
Your Newsletter Is Loaded With Content
Oct 21, 2020
Unexpected Nail Trends You're Going to Love
We find Fashion Week to be equal parts exciting and exhausting. It's exhilarating, getting our adrenaline pumping. But it also can be a bit overwhelming. There's always a lot to take from the weeklong display of shows, street style and backstage scene. More than anything, we actually look forward to taking a mental …
Stylecaster
Nude Nail Designs to Update Your Look
What makes nude nail designs so exceptional is it provides the wearer with a blank canvas to work from – you can add flowers, stripes, your favorite …
The Trend Spotter
How To Clean Your Makeup Brushes
Makeup is probably an essential part of your daily routine. Although there is a growing trend to embrace a lack of makeup, it is unlikely …
LA Fashion
10 Cool Outfit Ideas to Wear With a Trench Coat
Trench coats are one of the most versatile outerwear pieces you can own. They're lightweight enough for fall, but can layer up to last through colder months. Much like a stylish bag or boot, a trench can transform even …
Popsugar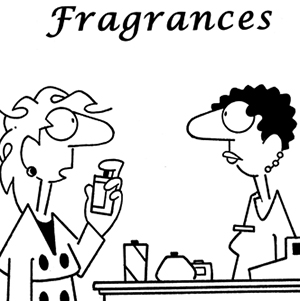 "I'm looking for something that makes me smell thinner."


Copyright © Randy Glasbergen
What Year Was It?
Cuban Missile Crisis
In a televised speech of extraordinary gravity, President John F. Kennedy announces that U.S. spy planes have discovered Soviet missile bases in Cuba.
The day was Oct 22. What year was it?
Quote of the Week
"Nothing tastes as good as skinny feels."
Kate Moss
Trivia
How many pairs of blue jeans does the average American own?
See the answer below.
SUBSCRIBE TO OUR NEWSLETTER
Your Name
Business Name
Business Address
Business Website
Phone / Email
The articles in our publications come from many sources. We do not endorse information or opinions appearing in linked articles. The articles selected are not sponsored, and we assume no responsibility for the accuracy of the information. Copyright for linked articles belongs to the linked source.
A Newsletter Station Publication
© All Rights Reserved.
Trivia Answer
How many pairs of blue jeans does the average American own?
Answer: 7