Jun 19, 2019
10 Financial Commandments for Your 30s
Your finances might have felt like a plague in your 20s, but thou shalt thrive throughout your 30s and beyond. Our list of Financial Commandments for your 20s helped you find your financial footing and establish a solid ...
Kiplinger
Borrowing From Your Retirement Plan
Most qualified plans—such as a 401(k) or 403(b) plan—offer employees the ability to borrow from their own retirement assets and repay ...
Investopedia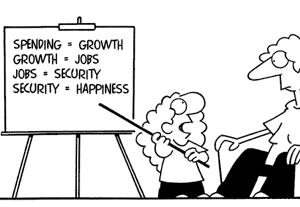 "...and that's why you need to raise my allowance!"


Copyright © Randy Glasbergen
What Year Was It?
First American Woman in Space
The space shuttle Challenger is launched into space. Aboard is Dr. Sally Ride, who became the first American woman to travel into space.
The day was Jun 18. What year was it?
Quote of the Week
"I have not failed. I've just found 10,000 ways that won't work."
Thomas A. Edison
Trivia
What fraction of coins produced by the U.S. Mint are pennies?
See the answer below.
SUBSCRIBE TO OUR NEWSLETTER