Email Marketing Built For Lawn Care Services


Make sure your customers feel special, delight them with an engaging email newsletter. Everything is managed for you including the content.

Prices start at only $39.00 per month.



No credit card required.
Your Newsletter Is Loaded With Content
Aug 12, 2020
Protect Your Lawn in the Heat
All your hard work in creating a beautiful, lush lawn, can quickly go to waste in times of excessive heat and dryness. If you keep just a few simple things in mind, however, you can help ensure your grass holds up when conditions …
RIS Media
August Garden Chore List
August is the month when many of your garden efforts come to fruition — generally in the form of tomatoes, peppers, melons, eggplant …
Minnesota State Horticultural Society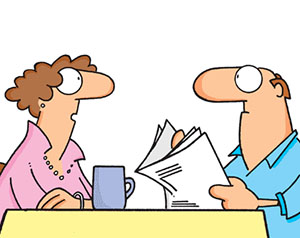 "Stop fretting about global warming. Mother Nature is going through menopause, but her hot flashes won't last forever."


Copyright © Randy Glasbergen
What Year Was It?
Skeleton of Tyrannosaurus Rex Discovered
Fossil hunter Susan Hendrickson discovers three huge bones jutting out of a cliff near Faith, South Dakota. They turn out to be part of the largest-ever Tyrannosaurus Rex skeleton ever discovered.
The day was Aug 12. What year was it?
Quote of the Week
"It will never rain roses: when we want to have more roses we must plant more trees."
George Eliot
Trivia
What type of wood are cricket bats are made out of?
See the answer below.
SUBSCRIBE TO OUR NEWSLETTER
Your Name
Business Name
Business Address
Business Website
Phone / Email
The articles in our publications come from many sources. We do not endorse information or opinions appearing in linked articles. The articles selected are not sponsored, and we assume no responsibility for the accuracy of the information. Copyright for linked articles belongs to the linked source.
A Newsletter Station Publication
© All Rights Reserved.
Trivia Answer
What type of wood are cricket bats are made out of?
Answer: Willow