Mar 20, 2019
Tell Your Doctor the Whole Truth to Avoid a Misdiagnosis
You know the drill. Your doctor asks, "How are you?" and that's your cue to explain that new pain you're wrestling with or that weird rash you've recently noticed. But be honest—do you bare all the facts when talking to your doctor ...
Bottom Line, Inc
7 Self-Care Strategies at Work
If it feels like you spend more time working than ever, you probably do — and you're not alone. A 2014 Gallup poll notes that American ...
Experience Life
Everything you need to know about CBD
The cannabis derivative is being touted as a medical marvel, but does it really live up to the hype? ABC News' Brad Mielke explores the ...
ABC News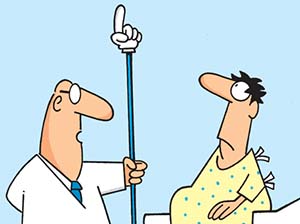 "Frankly, I don't enjoy prostate exams any more than you do!"


Copyright © Randy Glasbergen
What Year Was It?
Triangle Shirtwaist Fire in New York City
In one of the darkest moments of America's industrial history, the Triangle Shirtwaist Company factory in New York City burns down, killing 145 workers.
The day was Mar 25. What year was it?
Quote of the Week
"Time And health are two precious assets that we don't recognize and appreciate until they have been depleted."
Denis Waitley
Trivia
Who invented Hostess Twinkies?
See the answer below.
SUBSCRIBE TO OUR NEWSLETTER