May 22, 2019
5 Warning Signs of Stroke
Knowing five sudden and severe warning signs of stroke can help save lives and reduce the number of people living with disabilities, a stroke expert says. " 'Sudden' and 'severe' are key words, but if in doubt, do not take ...
MedicineNet
The Hidden Cause of Chronic Sinusitis
You've got a stuffy and/or runny nose…swollen and tender sinuses…and fatigue that just won't go away. Sounds like the classic symptoms ...
Bottom Line, Inc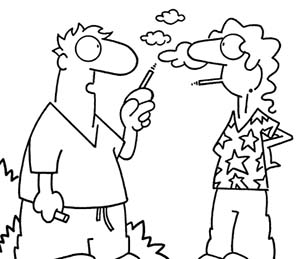 "They say cigarettes can destroy your sense of smell, so as a hospital nurse, I think it's a wise choice."


Copyright © Randy Glasbergen
What Year Was It?
Great Emigration Departs for Oregon
A massive wagon train, made up of 1,000 settlers and 1,000 head of cattle, sets off down the Oregon Trail from Independence, Missouri.
The day was May 22. What year was it?
Quote of the Week
"To insure good health: eat lightly, breathe deeply, live moderately, cultivate cheerfulness, and maintain an interest in life."
William Londen
Trivia
What was the name of the first major deodorant company in the United States?
See the answer below.
SUBSCRIBE TO OUR NEWSLETTER