Email Marketing Built For Graphic Design Firms


Make sure your clients feel special, delight them with an engaging email newsletter. Everything is managed for you including the content.

Prices start at only $39.00 per month.



No credit card required.
Your Newsletter Is Loaded With Content
Oct 21, 2020
Re-energizing sales efforts in a virtual world
Is your sales team disengaged? This year, it's hard not to be. We've quickly adapted everything in our work and personal life to respond to and survive within a COVID-19 environment. According to Gallup, the …
Sales & Marketing Management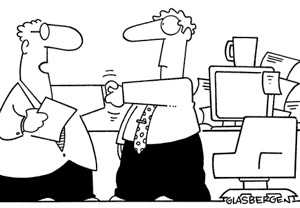 "Congratulations, Bob... you've won a Pulitzer Prize for excuses."


Copyright © Randy Glasbergen
What Year Was It?
Hostage Crisis in Moscow Theater
About 50 Chechen rebels storm a Moscow theater, taking up to 700 people hostage during a sold-out performance of a popular musical.
The day was Oct 23. What year was it?
Quote of the Week
"Almost all quality improvement comes via simplification of design, manufacturing... layout, processes, and procedures."
Tom Peters
Trivia
Which 400-year-old German dynasty from Essen is known for the industrial production of steel and armaments and has been known as the 'Arsenal of the Reich'?
See the answer below.
SUBSCRIBE TO OUR NEWSLETTER
Your Name
Business Name
Business Address
Business Website
Phone / Email
The articles in our publications come from many sources. We do not endorse information or opinions appearing in linked articles. The articles selected are not sponsored, and we assume no responsibility for the accuracy of the information. Copyright for linked articles belongs to the linked source.
A Newsletter Station Publication
© All Rights Reserved.
Trivia Answer
Which 400-year-old German dynasty from Essen is known for the industrial production of steel and armaments and has been known as the 'Arsenal of the Reich'?
Answer: Krupp family