Email Marketing Built For Graphic Design Firms


Make sure your clients feel special, delight them with an engaging email newsletter. Everything is managed for you including the content.

Prices start at only $39.00 per month.


No credit card required.
Your Newsletter Is Loaded With Content
Feb 19, 2020
5 trends in gaining more customer insight
All trends point to 2020 being more focused on the B2B customer, with data and insights as the key to understanding their needs. Marketing and sales have switched to account-based everything, which crystallizes focus on …
Sales & Marketing Management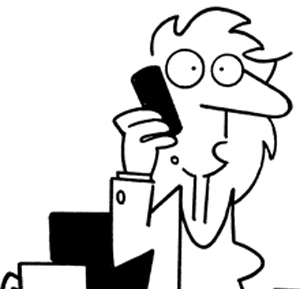 "I have to work late again, but don't worry - I outsourced our love life to a couple in India,"


Copyright © Randy Glasbergen
What Year Was It?
Malcolm X Assassinated
Malcolm X, an African American nationalist and religious leader, is assassinated by rival Black Muslims while addressing his Organization of Afro-American Unity.
The day was Feb 21. What year was it?
Quote of the Week
"If at first, you don't succeed, try, try again. Then quit. There's no point in being a damn fool about it."
WC Fields
Trivia
From the Arabic for 'to make known', what is the correct term for a duty imposed on foreign goods?
See the answer below.
SUBSCRIBE TO OUR NEWSLETTER
Your Name
Business Name
Business Address
Business Website
Phone / Email
The articles in our publications come from many sources. We do not endorse information or opinions appearing in linked articles. The articles selected are not sponsored, and we assume no responsibility for the accuracy of the information. Copyright for linked articles belongs to the linked source.
A Newsletter Station Publication
© All Rights Reserved.
Trivia Answer
From the Arabic for 'to make known', what is the correct term for a duty imposed on foreign goods?
Answer: Tariff