Email Marketing Built For Firearms Business


Make sure your customers feel special, delight them with an engaging email newsletter. Everything is managed for you including the content.

Prices start at only $39.00 per month.



No credit card required.
Your Newsletter Is Loaded With Content
Aug 12, 2020
Point Shooting Vs Aimed Fire
For more than a decade, this is a topic that has been guaranteed to not only sell gun magazines, but to generate a flurry of angry letters to the editors. Gun expert Dave Arnold was the first to make a key point about …
Gun Digest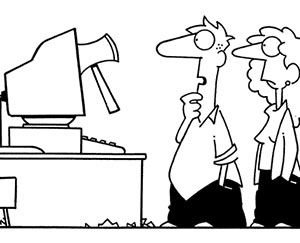 "Somebody broke into your computer, but it looks like the work of an inexperienced hacker."


Copyright © Randy Glasbergen
What Year Was It?
Blackout Hits Northeast United States
A major outage knocked out power across the eastern US and parts of Canada. 21 power plants shut down in just three minutes. Fifty million people were affected, including residents of New York, Cleveland, Detroit, Toronto and Ottawa.
The day was Aug 14. What year was it?
Quote of the Week
"I do not carry a pistol so I can impose my will on someone else. I carry a pistol so someone else cannot impose their will on me!"
Lynn Givens
Trivia
Where is the takedown mechanism on an AK-47?
See the answer below.
SUBSCRIBE TO OUR NEWSLETTER
Your Name
Business Name
Business Address
Business Website
Phone / Email
The articles in our publications come from many sources. We do not endorse information or opinions appearing in linked articles. The articles selected are not sponsored, and we assume no responsibility for the accuracy of the information. Copyright for linked articles belongs to the linked source.
A Newsletter Station Publication
© All Rights Reserved.
Trivia Answer
Where is the takedown mechanism on an AK-47?
Answer: At the back of the receiver