Email Marketing Built For Dentists


Make sure your patients feel special, delight them with an engaging email newsletter. Everything is managed for you including the content.

Prices start at only $39.00 per month.


No credit card required.
Your Newsletter Is Loaded With Content
Feb 19, 2020
What to Expect During a Teeth Cleaning
Getting your teeth professionally cleaned is one of the best things you can do for your smile! A teeth cleaning is generally done by a dental hygienist—a licensed professional who will assist your dentist during your appointment …
Your Dental Health Resource
For the Cleanest Hands—Sing This!
With new infectious diseases threatening our health daily—such as SARS, MERS, the new coronavirus—frequent handwashing is more …
Bottom Line Inc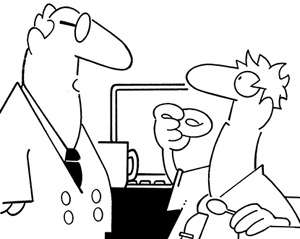 "If you must snack at your desk, try devouring the competition!"


Copyright © Randy Glasbergen
What Year Was It?
Malcolm X Assassinated
Malcolm X, an African American nationalist and religious leader, is assassinated by rival Black Muslims while addressing his Organization of Afro-American Unity.
The day was Feb 21. What year was it?
Quote of the Week
"Healthy is merely the slowest rate at which one can die."
Unknown
Trivia
Who invented the Popcicle in 1905?
See the answer below.
SUBSCRIBE TO OUR NEWSLETTER
Your Name
Business Name
Business Address
Business Website
Phone / Email
The articles in our publications come from many sources. We do not endorse information or opinions appearing in linked articles. The articles selected are not sponsored, and we assume no responsibility for the accuracy of the information. Copyright for linked articles belongs to the linked source.
A Newsletter Station Publication
© All Rights Reserved.
Trivia Answer
Who invented the Popcicle in 1905?
Answer: Frank Epperson, when he was 11 years old.