May 22, 2019
Expert tips on brushing your teeth and proper oral hygiene
The toothbrush — most of us have at least one in the house. And whether yours is electric or manual, there are certain brushing habits that could have a huge impact on your wellbeing. "I can tell a lot about a person's overall health ...
Chicago Sun Times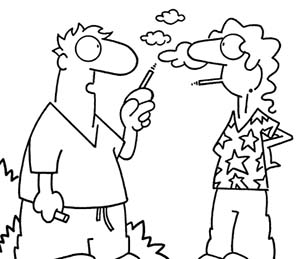 "They say cigarettes can destroy your sense of smell, so as a hospital nurse, I think it's a wise choice."


Copyright © Randy Glasbergen
What Year Was It?
Bismarck Sunk by the Royal Navy
The British navy sinks the German battleship Bismarck in the North Atlantic near France. The German death toll was more than 2,000.
The day was May 27. What year was it?
Quote of the Week
"To insure good health: eat lightly, breathe deeply, live moderately, cultivate cheerfulness, and maintain an interest in life."
William Londen
Trivia
What was the name of the first major deodorant company in the United States?
See the answer below.
SUBSCRIBE TO OUR NEWSLETTER