Jun 12, 2019
Reducing the Risk of Car Accident Injury
While doctors of chiropractic enjoy helping their patients get better, the preference is to avoid injury in the first place, and if that's not possible, to reduce the risk for serious injury. This is especially important when ...
Chiro-Trust
How to Cope with Seasonal Depression
Maybe the changing of seasons was a time you once looked forward to. But as you grow older, everyday stresses can become something more ...
Alternative Medicine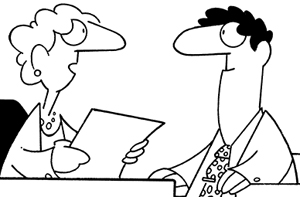 "We're a green company. I like the part where you describe yourself as biodegradable, organic and locally grown."


Copyright © Randy Glasbergen
Trivia
What is the fastest growing hair on the human body?
See the answer below.
How to Get Through a Panic Attack
If you've ever had a panic attack, you know that the experience can be more terrifying than anything has a right to be. It's easy ...
Self
Quote of the Week
Do antibiotics kill viruses?

Trivia Answer
What is the fastest growing hair on the human body?
Answer: Beards
SUBSCRIBE TO MY NEWSLETTER