Jan 23, 2019
The 50 Best Foods for Your Heart
Almonds: Vitamin B2 (riboflavin), vitamin E, magnesium and zinc all help to make a handful (about 1/4 cup a day) of crunchy almonds good for your heart and your mood. B vitamins and magnesium help produce serotonin, which helps ...
Taste of Home
Meatless Meals for Every Night This Week
Easy meatless meals are in–especially the ones that are just as hearty as chicken or beef dishes! Your no-meat week starts now. With plenty ...
Rachael Ray Every Day
Winter Wine Trends
Everyone recognizes that winter brings news trends in design, entertainment and fashion. However, have you given much consideration to ...
Cartersource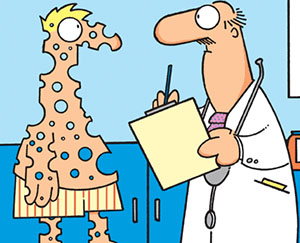 "I lost 60 pounds on the Swiss cheese diet!"


Copyright © Randy Glasbergen
What Year Was It?
Wham-O Produces First Frisbees
Machines at the Wham-O toy company roll out the first batch of their aerodynamic plastic discs - now known to millions of fans all over the world as Frisbees.
The day was Jan 23. What year was it?
Quote of the Week
"A house is not a home unless it contains food and fire for the mind as well as the body."
Benjamin Franklin
Trivia
What type of fruit would you pick from a Mirabelle tree?
See the answer below.
SUBSCRIBE TO OUR NEWSLETTER