Jun 12, 2019
Key Factors to Improve Startup Performance
Running a startup isn't easy. As CEOs and founders, there are many things working against us -- be it time, competition or team efficiency. That's why you need to keep a close eye on performance and get ahead of any issues ...
Inc.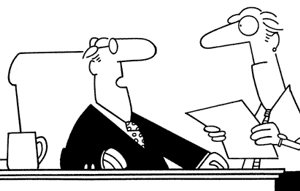 "If you must know, I work for minimum wage! For a CEO, minimum wage is $750 an hour."


Copyright © Randy Glasbergen
Trivia
New York businessman Arnold Rothstein is widely reputed to have been behind what major sports scandal in the early part of the 20th century?
See the answer below.
Winning with a data-driven strategy
The entire ethos of Spanish hotel chain Ilunion is built on innovation, and its most powerful tool for solving problems is now ...
Strategy + Business
Quote of the Week
"The opportunity is often lost by deliberating."
Publilius Syrus
Trivia Answer
New York businessman Arnold Rothstein is widely reputed to have been behind what major sports scandal in the early part of the 20th century?
Answer: Baseball's Black Sox scandal
SUBSCRIBE TO MY NEWSLETTER