Email Marketing Built For Auto Detailing Services


Make sure your customers feel special, delight them with an engaging email newsletter. Everything is managed for you including the content.

Prices start at only $39.00 per month.



No credit card required.
Your Newsletter Is Loaded With Content
Oct 21, 2020
How to Clean Your Car's Interior
Your car has probably been sitting unused more than usual over the past several months, but that hasn't stopped dust and dirt from accumulating inside. Even if your car wash stayed open during the pandemic, you may not have …
Consumer Reports
Wash and Detail a Car the Right Way
You don't need a super-fancy car to want to keep it clean and spiffy—plenty of people enjoy the process of washing and detailing their …
New York Times
Key Diagnostics And Programming
It happened to me, I left my car keys in my pants and threw them in the washing machine. Thirty minutes later, I heard a knocking …
Import Car
7 Best Tire Chains for Winter Driving
Tire chains, also called snow chains, are metal or tough plastic coverings for car tires. They improve traction when driving over …
Family Handyman
How to Replace a Key Fob
If you think you can go to any hardware store to have a new car key cut for a few bucks, you're still living in the 20th century …
Cars.com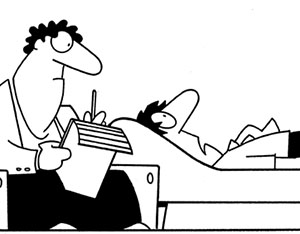 "Even my GPS says I'm going nowhere!"


Copyright © Randy Glasbergen
What Year Was It?
Guggenheim Museum Opens in New York City
On New York City's Fifth Avenue, thousands of people line up outside a bizarrely shaped white concrete building. It was opening day at the new Guggenheim Museum, home to one of the world's top collections of contemporary art.
The day was Oct 21. What year was it?
Quote of the Week
"A muscle is like a car. If you want it to run well early in the morning, you have to warm it up."
Florence Griffith Joyner
Trivia
Who suggested that a brake light should be placed in the rear windows of automobiles?
See the answer below.
SUBSCRIBE TO OUR NEWSLETTER
Your Name
Business Name
Business Address
Business Website
Phone / Email
The articles in our publications come from many sources. We do not endorse information or opinions appearing in linked articles. The articles selected are not sponsored, and we assume no responsibility for the accuracy of the information. Copyright for linked articles belongs to the linked source.
A Newsletter Station Publication
© All Rights Reserved.
Trivia Answer
Who suggested that a brake light should be placed in the rear windows of automobiles?
Answer: Elizabeth Dole