Jan 15, 2020
Frequently Overlooked Tax Deductions
After the sweeping new federal tax law took effect in January 2018, about 90% of taxpayers took a standard deduction for that tax year rather than itemize, up from about 70% the year before. But if you are planning to take …
Bottom Line, Inc
Take charge of your credit
By now, you've encountered the world of credit, whether it was renting your first apartment or figuring out how to pay for a kitchen …
ABC News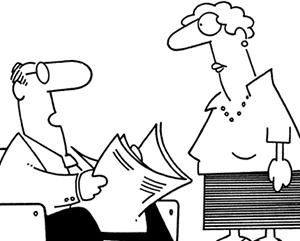 "How can you call me unemotional? You've seen me cry over interest rates!"


Copyright © Randy Glasbergen
Trivia
Who suggested the design for the first penny?
See the answer below.
What Is a Roth IRA?
A Roth IRA is a type of investment account used for retirement. IRA is short for "individual retirement account …
Investor Junkie
What Year Was It?
Boston Thieves Pull Off Historic Robbery
11 men steal more than $2 million from the Brinks Armored Car depot in Boston, Massachusetts. It was the perfect crime - almost - as the culprits weren't caught until January 1956, just days before the statute of limitations for the theft expired.
The day was Jan 17. What year was it?
Quote of the Week
"Frugality includes all the other virtues."
Cicero
Trivia Answer
Who suggested the design for the first penny?
Answer: Benjamin Franklin
SUBSCRIBE TO OUR NEWSLETTER
NEWSLETTER ARCHIVES