Feb 24, 2021
Hiring and appraisals in a post pandemic world
The ongoing COVID-19 pandemic is one of the most severe crises that humanity has ever grappled with. The pandemic has had a negative impact across all industries, bringing the economy down and coinciding with recruitment and appraisals …
People Matters
The office is not dead. Here's why
Lately we've seen lots of obituaries for the office. The pandemic caused a massive shift to work from home (WFH) among knowledge and …
Fast Company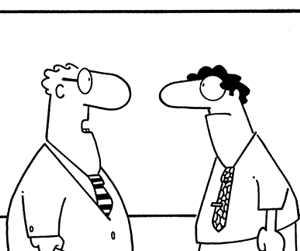 "We are a company, not a military organization. Making you watch a PowerPoint is not a violation of the Geneva Convention!"


Copyright © Randy Glasbergen
Trivia
What famous statesman sold 18 canvases to Hallmark cards for reproduction on greeting cards?
See the answer below.
How To Lead A Better Team
It's never been more important for CEOs to lead high-performing teams and also never more challenging. If there's one …
Forbes
What Year Was It?
Alamo Defenders Call for Help
In San Antonio, Texas, Colonel William Travis issues a call for help on behalf of the Texan troops defending the Alamo, an old Spanish mission and fortress under attack by the Mexican army.
The day was Feb 24. What year was it?
Quote of the Week
"We are currently not planning on conquering the world."
Sergey Brin, Google co-founder
Trivia Answer
What famous statesman sold 18 canvases to Hallmark cards for reproduction on greeting cards?
Answer: Winston Churchill
SUBSCRIBE TO OUR NEWSLETTER
NEWSLETTER ARCHIVES