Feb 12, 2020
HR in 2020 and beyond: What the future of HR holds
Talking about the future of HR usually comes loaded with jargon, difficult to comprehend concepts & almost impossible to implement ideas. According to some experts, the future will see technologies, including artificial …
People Matters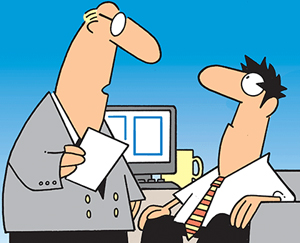 "I'm sending you to anger management class, so you can learn how to stop making me lose my temper."


Copyright © Randy Glasbergen
Trivia
George Bailey, the character portrayed by James Stewart in It's a Wonderful Life is loosely based upon which banker who was the founder of Bank of America?
See the answer below.
What's Your Appetite for Risk?
Matt Wan, CEO and founder of Momentous, talks about how he weighed the decision to drop out of Harvard by evaluating …
Entrepreneur
What Year Was It?
Madame Butterfly Premieres
Giacomo Puccini's opera Madame Butterfly premieres at the La Scala theatre in Milan, Italy.
The day was Feb 17. What year was it?
Quote of the Week
"Litigation is the basic legal right which guarantees every corporation its decade in court."
David Porter
Trivia Answer
George Bailey, the character portrayed by James Stewart in It's a Wonderful Life is loosely based upon which banker who was the founder of Bank of America?
Answer: Amadeo Giannini
SUBSCRIBE TO OUR NEWSLETTER
NEWSLETTER ARCHIVES