May 27, 2020
Curb Appeal in the New Normal
Everyone knows that when you're putting your home on the market, curb appeal – that indelible first impression your house makes from the road – can make or break a successful sale. These days, curb appeal is even more important …
RIS Media
Creating Faux Brick on Home Exterior
How do you transform a dull, brown stucco home exterior into a neighborhood showpiece? If you're Greg Garrett, you hand-stencil a faux …
Extreme How-To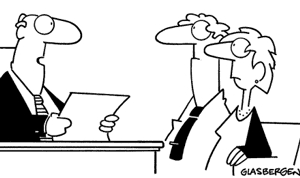 "As an alternative to the traditional 30-year mortgage, we also offer an interest-only mortgage, balloon mortgage, reverse mortgage, upside down mortgage, inside out mortgage, and the spinning double axle mortgage with a triple lutz."


Copyright © Randy Glasbergen
Trivia
What is your abode?
See the answer below.
How to Organize Your Pantry
A well-organized pantry can make it easy for you and your family to find what you want and can help avoid wasting food …
RIS Media
What Year Was It?
Mount Everst Conquered
Edmund Hillary of New Zealand and Tenzing Norgay, a Sherpa of Nepal, become the first explorers to reach the summit of Mount Everest.
The day was May 29. What year was it?
Quote of the Week
"The prospect of going home is very appealing."
David Ginola
Trivia Answer
What is your abode?
Answer: Your home.
SUBSCRIBE TO OUR NEWSLETTER
NEWSLETTER ARCHIVES