Dec 4, 2019
3 Services That Streamline Your Business
Today's small and medium-sized businesses run on efficiency just as much as they do market share, and after a half-century of technological …
The Startup Magazine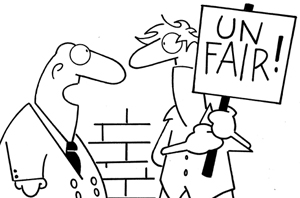 "It's not fair that I make a lot more money than you, but you're younger, taller and thinner than me and that's not fair either!"


Copyright © Randy Glasbergen
Trivia
When Gillette first marketed its safety razor at the turn of the century, it sold 20 blades for $1.00 How much did the razor handle cost?
See the answer below.
How to Negotiate as a Freelancer
Today, 1 in 3 working Americans are freelancing. That's about 57 million workers from a force of 160 million …
Harvard Business Review
What Year Was It?
U.S. Marines Storm Mogadishu, Somalia
United States Marines arrive in Mogadi­shu, Somalia, to spearhead a multinational force aimed at restoring order in the conflict-ridden country.
The day was Dec 9. What year was it?
Quote of the Week
"Money can't buy friends, but you can get a better class of enemy."
Spike Milligan
Trivia Answer
When Gillette first marketed its safety razor at the turn of the century, it sold 20 blades for $1.00 How much did the razor handle cost?
Answer: $5
SUBSCRIBE TO OUR NEWSLETTER
NEWSLETTER ARCHIVES