Nov 6, 2019
Video interviewing tips for executive job seekers
Video interviewing is rapidly becoming the norm for corporate recruiting departments as HR departments seek out cost-effective ways of interviewing higher volumes of available candidates. Being able to communicate your value to an employer through one-way video (where you video answers …
AZ Big Media
4 Key Traits to Look For In Every New Hire
Alexa von Tobel, founder of Learnvest and Inspired Capital, reveals the most important qualities every entrepreneur should look for when …
https://www.inc.com/video/4-key-traits-to-look-for-in-every-new-hire.html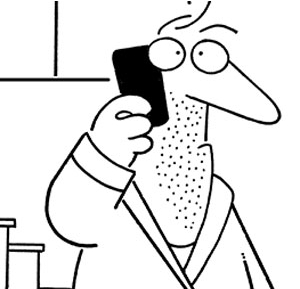 "Please moan into the phone. A nurse will determine if you are too sick to work today or just faking it."


Copyright © Randy Glasbergen
Trivia
The American inventor Douglas Engelbart is best known for inventing which ubiquitous 'clicking' device?
See the answer below.
What Year Was It?
World War I Ends
Germany, bereft of manpower and supplies and faced with imminent invasion, signed an armistice agreement with the Allies.
The day was Nov 11. What year was it?
Quote of the Week
"A budget tells us what we can't afford, but it doesn't keep us from buying it."
William Feather
Trivia Answer
The American inventor Douglas Engelbart is best known for inventing which ubiquitous 'clicking' device?
Answer: Computer mouse
SUBSCRIBE TO OUR NEWSLETTER
NEWSLETTER ARCHIVES