Aug 21, 2019
The Link Between Whiplash and Jaw Pain
While neck pain is most commonly associated with whiplash associated disorder (WAD), patients often report jaw or temporomandibular joint (TMJ) pain following a car accident, sport injury, or slip and fall. Common symptoms …
Chiro-Trust.org
Little-Known Cause of Blurry Vision
My 25-year-old daughter recently had blurry vision, and her ophthalmologist said it was caused by something called a pterygium …
Bottom Line Inc
What Causes Nosebleeds?
Nose picking, dry air, blood thinners, high blood pressure, allergies, antihistamines, and, rarely, liver disease or nasal tumors …
Experience Life
9 Tips for Better Sleep
The exciting research in sleep science nowadays comes from labs studying the effects of sleep on the brain and what happens when you …
Alternative Medicine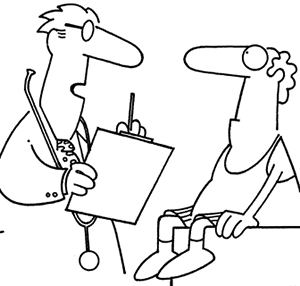 "We can't find anything wrong with you, so we're going to treat you for Symptom Deficit Disorder."


Copyright © Randy Glasbergen
Trivia
Your heart beats approximately how many times per day?
See the answer below.
Are You Drinking Clean?
"Eating clean" is a commonly used expression in today's health and fitness culture. From meal prep to shopping lists, we know that …
Bodybuilding.com
What Year Was It?
Fannie Farmer Opens Cooking School
Pioneering cookbook author Fannie Farmer, who changed the way Americans prepare food by advocating the use of standardized measurements in recipes, opens Miss Farmer's School of Cookery in Boston.
The day was Aug 23. What year was it?
Quote of the Week
"Calm mind brings inner strength and self-confidence, so that's very important for good health."
Dalai Lama
Trivia Answer
Your heart beats approximately how many times per day?
Answer: 100,000
SUBSCRIBE TO OUR NEWSLETTER
NEWSLETTER ARCHIVES