May 22, 2019
The benefits of Chiropractic Care
Seeing a chiropractor is not only about getting your back cracked. When you find the right chiropractor, you will be able to see all the benefits that chiropractic care can give you, from reducing your pain to improving your ...
The Frisky
Wellness Packages for $137
Customize your treatment plan. Choose up to 3 services to address your healthcare needs: Chiropractic, Acupuncture, 1/2 hour Massage. This is only for existing patients that have had a Consultation, Examination, and X-rays if needed.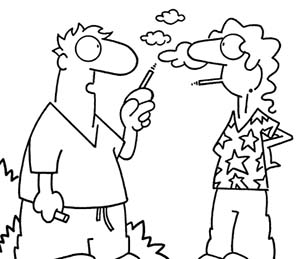 "They say cigarettes can destroy your sense of smell, so as a hospital nurse, I think it's a wise choice."


Copyright © Randy Glasbergen
Quote of the Week
"To insure good health: eat lightly, breathe deeply, live moderately, cultivate cheerfulness, and maintain an interest in life."
William Londen
Trivia
What was the name of the first major deodorant company in the United States?
See the answer below.
The articles in our publications come from many sources. We do not endorse information or opinions appearing in linked articles. The articles selected are not sponsored, and we assume no responsibility for the accuracy of the information. Copyright for linked articles belongs to the linked source.
A Newsletter Station Publication
© All Rights Reserved.
Trivia Answer
What was the name of the first major deodorant company in the United States?
Answer: Odorono