Feb 20, 2019
Tips when moving off parent's health insurance
Like other adult things, choosing your first health insurance plan seems scary - until you actually do it. Many young adults have enjoyed the ability to remain covered on their parent's health plan. However, after turning 26 ...
NBC News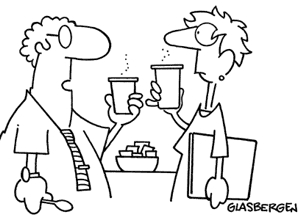 "I was floating in a tunnel toward a very bright light and then a voice told me I had to go back and finish listening to the presentation."


Copyright © Randy Glasbergen
Trivia
In the 1970s, 'The Chicago Boys' were a group of 25 economists working under which South American dictator's administration to create a free market economy?
See the answer below.
What Year Was It?
Malcolm X Assassinated
Malcolm X, an African American nationalist and religious leader, is assassinated by rival Black Muslims while addressing his Organization of Afro-American Unity.
The day was Feb 21. What year was it?
Quote of the Week
"Always look for the fool in the deal. If you don't find one, it's you."
Mark Cuban, AXS TV chairman
Trivia Answer
In the 1970s, 'The Chicago Boys' were a group of 25 economists working under which South American dictator's administration to create a free market economy?
Answer: Augusto Pinochet
SUBSCRIBE TO OUR NEWSLETTER
NEWSLETTER ARCHIVES