Feb 20, 2019
Chiropractic Has Role to Play in Easing Back Pain
Chiropractic care can help ease low back pain when added to a comprehensive treatment plan, a new clinical trial has found. Active-duty military personnel reported having fewer back problems when they visited a chiropractor along ...
Web MD
Is my jaw broken or dislocated?
A broken jaw refers to a fracture of the jawbone or mandible, whereas a dislocated jaw is where the lower part of the jaw moves out ...
Medical News Today
What to know about skin ulcers
A skin ulcer is an open wound that develops on the skin as a result of injury, poor circulation, or pressure. Skin ulcers can ...
Medical News Today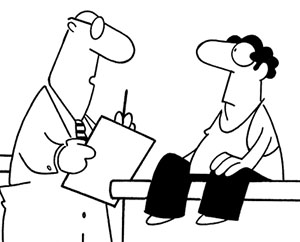 "Stop drinking coffee for a week, then start drinking it again. It's the same effect as rebooting your computer."


Copyright © Randy Glasbergen
Trivia
Who invented the Popcicle in 1905?
See the answer below.
Good and bad cholesterol
If your doctor has told you that you need to lower your cholesterol, failing to do so could adversely affect your health, so you need ...
Alternative Medicine
What Year Was It?
U.S. Hockey Team Miracle On Ice
In one of the most dramatic upsets in Olympic history, the underdog U.S. hockey team defeats the four-time defending gold-medal winning Soviet team at the XIII Olympic Winter Games in Lake Placid, New York.
The day was Feb 22. What year was it?
Quote of the Week
"Those who think they have no time for exercise will sooner or later have to find time for illness."
Edward Stanley
Trivia Answer
Who invented the Popcicle in 1905?
Answer: Frank Epperson, when he was 11 years old.
SUBSCRIBE TO OUR NEWSLETTER
NEWSLETTER ARCHIVES