Jul 8, 2020
Financial Tips For New Grads
One of the most common things I often hear from people is how much they wish they had learned about financial wellness when they were younger. I particularly think about this with all the new college grads this year. There are …
Forbes
How to Stop Fighting About Money
A few years ago, a new client came to see me, without her husband, for a financial planning session. We'll call her Sara. I knew Sara …
Investopedia
HSAs Get Even Better
As the country dealt with the fallout from the coronavirus pandemic this spring, lawmakers and regulators scrambled to ease the pain …
Kiplinger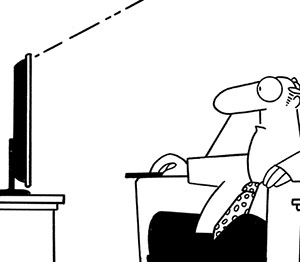 "Stocks plummeted today on forecasts that the sun will rise again and tomorrow will be another day."


Copyright © Randy Glasbergen
Quote of the Week
"Derivatives in and of themselves are not evil. There's nothing evil about how they're traded, how they're accounted for, and how they're financed, like any other financial instrument, if done properly."
James Chanos
Trivia
What are the only states that accept the penny in toll booths?
See the answer below.
Philip A. Guske
Phil W. Guske
Barbara Lane

Pathfinder Wealth Management, Inc.
Rockford, IL 61108
The articles in our publications come from many sources. We do not endorse information or opinions appearing in linked articles. The articles selected are not sponsored, and we assume no responsibility for the accuracy of the information. Copyright for linked articles belongs to the linked source.
A Newsletter Station Publication
© All Rights Reserved.
Trivia Answer
What are the only states that accept the penny in toll booths?
Answer: Illinois and New Jersey