Oct 9, 2019
Top Hiring Trends for Small Businesses
n no time at all, a new year will be upon us. Many entrepreneurs view the start of a new year as an opportunity to reevaluate company goals and to hire new employees to help their businesses grow. Staying up-to-date on …
All Business
Right Person, Wrong Job
Time and again companies make a common mistake in how they curate and cultivate talent: when a manager position becomes available …
Forbes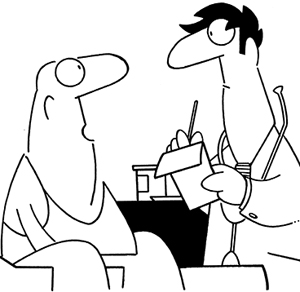 "I need something to relieve my stress. Can you prescribe some money?"


Copyright © Randy Glasbergen
Quote of the Week
"Don't worry about people stealing your ideas. If your ideas are any good, you'll have to ram them down people's throats."
Howard Aiken
Trivia
Which economic theory that was the dominant school of thought throughout the early modern period holds that the prosperity of a nation is dependent upon its supply of capital and that the global volume of international trade is unchangeable?
See the answer below.
Cindy Fletcher
Strategic Search Solutions, Inc.
7040 Avenida Encinas
Suite 104
Carlsbad, CA 92011
The articles in our publications come from many sources. We do not endorse information or opinions appearing in linked articles. The articles selected are not sponsored, and we assume no responsibility for the accuracy of the information. Copyright for linked articles belongs to the linked source.
A Newsletter Station Publication
© All Rights Reserved.
Trivia Answer
Which economic theory that was the dominant school of thought throughout the early modern period holds that the prosperity of a nation is dependent upon its supply of capital and that the global volume of international trade is unchangeable?
Answer: Mercantilism