Jul 17, 2019
Adopt the Right Dog
Psychologists who study how people pick their spouses have turned their attention to another important relationship: choosing a canine companion. They recently found that, when it comes to puppy love, the heart doesn't always …
The Bark
How Stressed Is Your Dog?
If you share your life with a dog you will know that dogs are very sensitive to our moods. If you are feeling sad your dog will often …
K9 Magazine
Nutrition Tips for Your Pets
Just like your diet matters, so does your pet's. However, it can be difficult to know exactly what your pet needs to help keep them healthy …
A Pet's Life Magazine
In Top Form
Cats are often considered relatively low-maintenance pets when compared to some other companion animals. You don't need to take …
pet Age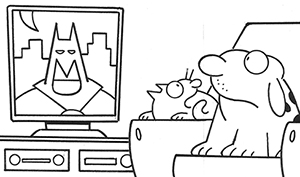 "Are you sure Cat Woman is a villain? She seems OK to me!"


Copyright © Randy Glasbergen
Trivia
What breeds of chicken lay green or blue eggs?
See the answer below.
Do dogs hold grudges like people do?
The thought processes and emotional lives of our canine companions is a huge area of research these days, and a question that keeps …
Healthy Pets
What Year Was It?
FDR Nominated for Unprecedented Third Term
Franklin Delano Roosevelt is nominated for an unprecedented third term. Roosevelt would eventually be elected to a record four terms in office, the only U.S. president to serve more than two terms.
The day was Jul 18. What year was it?
Quote of the Week
"I wonder if other dogs think poodles are members of a weird religious cult."
Rita Rudner
Trivia Answer
What breeds of chicken lay green or blue eggs?
Answer: The Ameraucana and Araucana
SUBSCRIBE TO OUR NEWSLETTER
NEWSLETTER ARCHIVES