Dec 4, 2019
Calling all
Introducing the first of many new changes coming to Ajulia! Our marketing team worked hard to create a meaningful, distinct and cohesive look that embraces who we are.
Read more about our brand evolution on our blog.
Open Enrollment for Employers!
We are looking to partner with your company to find you the most qualified candidates!
Our clients say:
Ajulia Executive Search always delivers! Round the clock support and quick response made hiring for our whole plant quick and easy!
- HR Manager
3 Services That Streamline Your Business
Today's small and medium-sized businesses run on efficiency just as much as they do market share, and after a half-century of technological …
The Startup Magazine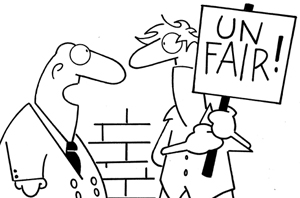 "It's not fair that I make a lot more money than you, but you're younger, taller and thinner than me and that's not fair either!"


Copyright © Randy Glasbergen
Trivia
When Gillette first marketed its safety razor at the turn of the century, it sold 20 blades for $1.00 How much did the razor handle cost?
See the answer below.
How to Negotiate as a Freelancer
Today, 1 in 3 working Americans are freelancing. That's about 57 million workers from a force of 160 million …
Harvard Business Review
What Year Was It?
U.S. Marines Storm Mogadishu, Somalia
United States Marines arrive in Mogadi­shu, Somalia, to spearhead a multinational force aimed at restoring order in the conflict-ridden country.
The day was Dec 9. What year was it?
Quote of the Week
"Money can't buy friends, but you can get a better class of enemy."
Spike Milligan
Trivia Answer
When Gillette first marketed its safety razor at the turn of the century, it sold 20 blades for $1.00 How much did the razor handle cost?
Answer: $5
SUBSCRIBE TO OUR NEWSLETTER
NEWSLETTER ARCHIVES