Feb 20, 2019
The Real Reason Your New Employees Keep Quitting
Being the new kid is never easy. Stepping into unfamiliar territory where friendships, cliques, and hierarchies are in place can feel like being a teenager all over again. Except you're not fifteen and high school was a long ...
Inc.
Hello, New Logo!
Introducing the first of many new changes coming to Ajulia! Our marketing team worked hard to create a meaningful, distinct and cohesive look that embraces who we are.
Read more about our brand evolution on our blog.
Ajulia is Growing!
We are growing! We are looking for qualified administrative assistants and professional services coordinators to support our Sales and Recruiting departments! Please apply on our website or send your resume to shannon@ajuliaexecutivesearch.com
Solving teething problems in startups
Hitches, challenges, failures, disappointment; these are many more are part and parcel of the human experience that extends to business ...
The Startup Magazine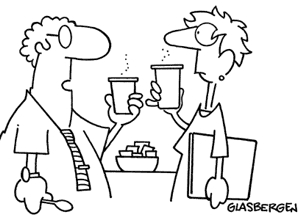 "I was floating in a tunnel toward a very bright light and then a voice told me I had to go back and finish listening to the presentation."


Copyright © Randy Glasbergen
Trivia
In the 1970s, 'The Chicago Boys' were a group of 25 economists working under which South American dictator's administration to create a free market economy?
See the answer below.
What Year Was It?
Malcolm X Assassinated
Malcolm X, an African American nationalist and religious leader, is assassinated by rival Black Muslims while addressing his Organization of Afro-American Unity.
The day was Feb 21. What year was it?
Quote of the Week
"Always look for the fool in the deal. If you don't find one, it's you."
Mark Cuban, AXS TV chairman
Trivia Answer
In the 1970s, 'The Chicago Boys' were a group of 25 economists working under which South American dictator's administration to create a free market economy?
Answer: Augusto Pinochet
SUBSCRIBE TO OUR NEWSLETTER
NEWSLETTER ARCHIVES