May 22, 2019
Have you Registered with us yet?
If you are still looking for the perfect job, or just waiting for the right opportunity to come along? Send us your updated information and we'll match you with the perfect company. Connect with us today! Always free. Always open.
30% off for New Employers!
Your company's success relies on the quality of your workforce. Ajulia offers staffing and managed executive services to ensure you have the people and processes to achieve the results you want.Request services now for 30% off your 1st contract.
What Good Feedback Really Looks Like
According to a recent Harvard Business Review cover story, it's rarely useful to give feedback to colleagues. The authors argue ...
Harvard Business Review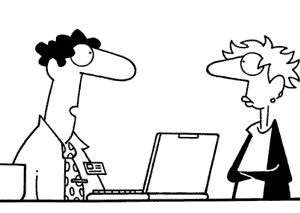 "What software would you recommend to give my presentation so much flash and sizzle that nobody notices that I have nothing to say?"


Copyright © Randy Glasbergen
Quote of the Week
"Great companies are built on great products."
Elon Musk
Trivia
To celebrate its one-hundredth anniversary in 1860, what did the Lorillard Company put at random in packages of it Century brand of tobacco?
See the answer below.
The articles in our publications come from many sources. We do not endorse information or opinions appearing in linked articles. The articles selected are not sponsored, and we assume no responsibility for the accuracy of the information. Copyright for linked articles belongs to the linked source.
A Newsletter Station Publication
© All Rights Reserved.
Trivia Answer
To celebrate its one-hundredth anniversary in 1860, what did the Lorillard Company put at random in packages of it Century brand of tobacco?
Answer: $100 bills