Feb 20, 2019
Find A Workout Buddy You'll Actually Like
Picture this: You're lying in bed, sleeping peacefully, when your alarm blasts and rips you out of dreamland. You roll over groggily and hit snooze. It's 6 a.m. You'd planned to go to the gym before work today…but you're so tired ...
Woman's Health Magazine
Top 7 benefits of exercise for seniors
n 2018, the World Population Data reported 9% of the global population to be 65 years old or older. This age group is defined as older ...
Medical News Bulletin
Circuits are FUN
Want a great workout without a big commitment? Try our circuit session Tuesdays and Thursdays from 5:30 - 6:15 am. Only $15 per session - no commitment/no contract!
Bring a friend and you BOTH win!
Share our award winning workouts with a friend and you BOTH win! You and your friend get to have a super workout together and you each get $50 off your first month!
Get the most out of exercise classes
Go steady If you're a beginner, don't do too much, too soon – start with two sessions a week. After a month of attending two or three ...
The Guardian
Boosting Your Diet for Exercise
A typical workout doesn't give you license to eat whatever you want. Even a full hour of vigorous skiing burns just 600 calories ...
MedicineNet.com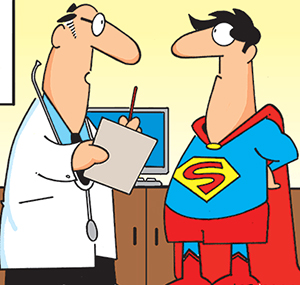 "More walking, less flying."


Copyright © Randy Glasbergen
Trivia
How many muscles does it to speak?
See the answer below.
What Year Was It?
U.S. Hockey Team Miracle On Ice
In one of the most dramatic upsets in Olympic history, the underdog U.S. hockey team defeats the four-time defending gold-medal winning Soviet team at the XIII Olympic Winter Games in Lake Placid, New York.
The day was Feb 22. What year was it?
Quote of the Week
"The first time I see a jogger smiling, I'll consider it."
Joan Rivers
Trivia Answer
How many muscles does it to speak?
Answer: It takes 70 muscles to speak a single word.
SUBSCRIBE TO OUR NEWSLETTER
NEWSLETTER ARCHIVES