Feb 20, 2019
Find A Workout Buddy You'll Actually Like
Picture this: You're lying in bed, sleeping peacefully, when your alarm blasts and rips you out of dreamland. You roll over groggily and hit snooze. It's 6 a.m. You'd planned to go to the gym before work today…but you're so tired ...
Woman's Health Magazine
Top 7 benefits of exercise for seniors
n 2018, the World Population Data reported 9% of the global population to be 65 years old or older. This age group is defined as older ...
Medical News Bulletin
Try our circuit training
Want a great workout without a big commitment? Try our circuit session Tuesdays and Thursdays from 5:30 - 6:15 am. Only $15 per session - no commitment/no contract!
Come to our open house!
Please come to our open house on February 21, 2019 rom 4:40-6:30! Thee will be food, prizes, lots of community partners - it's a great time to visit or bring a friend to introduce them to GF!
Get the most out of exercise classes
Go steady If you're a beginner, don't do too much, too soon – start with two sessions a week. After a month of attending two or three ...
The Guardian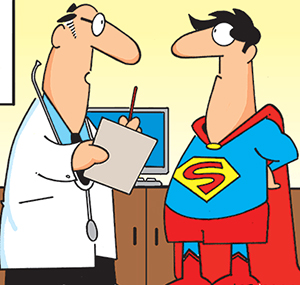 "More walking, less flying."


Copyright © Randy Glasbergen
Quote of the Week
"The first time I see a jogger smiling, I'll consider it."
Joan Rivers
Trivia
How many muscles does it to speak?
See the answer below.