Dec 11, 2019
What to know about neck tension
Neck tension refers to neck pain that develops when the muscles in the neck cannot relax, which can lead to soreness, muscle spasms …
Medical News Today
Psoriasis: Symptoms and Causes
Psoriasis is an inflammatory skin problem that usually manifests as plaques and erythematous papules covered with silvery scales. The …
Alternative Medicine
How to Stay Healthy During the Holidays
Stay moving: This doesn't always have to mean going to the gym. Maybe you don't have access to your regular facility. Try bundling …
Inspire Health Magazine
Why is your stomach making noises?
Your stomach will make noises when you are hungry, or when you have just eaten a sizable meal. Most of the time, these are normal …
Fox News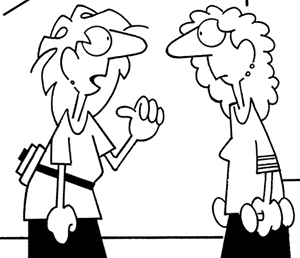 "it's a smoke detector. It tells me if I'm exercising hard enough to burn fat!"


Copyright © Randy Glasbergen
Trivia
When were Fortune Cookies invented?
See the answer below.
How to Avoid Knee Pain
Knees are complex joints, and with this complexity comes the myth that the bones, tendons, ligaments, and …
Experience Life
What Year Was It?
Da Vinci Notebook Sells for Over $5 Million
American oil tycoon Armand Hammer pays $5,126,000 at auction for a notebook containing writings by the legendary artist Leonardo da Vinci.
The day was Dec 12. What year was it?
Quote of the Week
"If you're happy, if you're feeling good, then nothing else matters."
Robin Wright
Trivia Answer
When were Fortune Cookies invented?
Answer: In 1916 by George Jung, a Los Angeles noodle maker.
SUBSCRIBE TO OUR NEWSLETTER
NEWSLETTER ARCHIVES