Jul 17, 2019
Hit a fitness plateau? Strategies to push through
I think we can all agree that plateaus are the worst. After all, when you're working on your fitness (hi, Lizzo), the last thing you want is to hit a standstill. While wishing for better results is the idealistic way to overcome …
Well and Good
What Is Overtraining?
Listen to enough gym chatter, and you'll probably get an earful about the dangers of "overtraining." Unfortunately, most of what …
Experience Life
THERE IS NO TIME LIKE TODAY!
Tired, in a rut, need to get off the couch. Now is the time to join World Gym Mishawaka. Click on the HOME button at the top and see what exciting options we have available to get you started on being the best you can be.
How to Find Your Best Exercise Style
Are you trapped in an exercise routine that's good for your body, but isn't motivating your spirit? It's time to find your exercise …
Medicine Net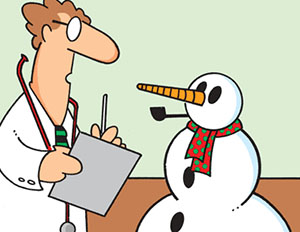 "Lose some weight, quit smoking, move around more and eat the carrot."


Copyright © Randy Glasbergen
Trivia
Which is the best source of vitamin E?
See the answer below.
Lift to Lose Weight
When Ellen Zwiefel started putting on weight after the birth of her second child, she did what a lot of people do: She tried …
Experience Life
What Year Was It?
FDR Nominated for Unprecedented Third Term
Franklin Delano Roosevelt is nominated for an unprecedented third term. Roosevelt would eventually be elected to a record four terms in office, the only U.S. president to serve more than two terms.
The day was Jul 18. What year was it?
Quote of the Week
"Gym Rule #1: If you want to know the correct way to perform an exercise, the answer is: Whatever hurts most."
Jason Love
Trivia Answer
Which is the best source of vitamin E?
Answer: Almonds
SUBSCRIBE TO OUR NEWSLETTER
NEWSLETTER ARCHIVES