Mar 20, 2019
8 proven ways exercise makes you happier
Exercise is great not only for your physical well-being but also for your mental health says recent study and Christina G. Hibbert in her new book 8 Keys to Mental Health Through Exercise. Do you feel happier after exercise ...
My Body & Soul
THERE IS NO TIME LIKE TODAY!
Tired, in a rut, need to get off the couch. Now is the time to join World Gym Mishawaka. Click on the HOME button at the top and see what exciting options we have available to get you started on being the best you can be.
I'll Feel More Like It Tomorrow
It's a great time of year at the university, at least in terms of research. Our senior honors students are wrapping up their thesis projects ...
Psychology Today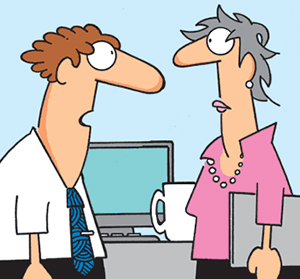 "I do the Beatles Workout. I'm so tired because I carry that weight down the long and winding road 8 days a week!"


Copyright © Randy Glasbergen
Quote of the Week
"Exercise is the chief source of improvement in our faculties."
Hugh Blair
Trivia
Are you stuck with the metabolic rate you're born with?
See the answer below.