Mar 14, 2018
Taxes From A To Z (2018): B Is For Bonus
t's my annual "Taxes from A to Z" series! If you're wondering whether you can claim home office expenses or whether to deduct a capital loss, you won't want to miss a single letter. B is for Bonus. A bonus is typically money ...
Forbes
QuickBooks Online Subscription at no cost to you!
We provide all our clients with a Quickbooks Online Subscription. Don't pay large accounting fees when you can have personal & professional accounting services at a reasonable rate. Call Mike today 850-725-5696
McVay Business Services
Book your Tax Appointment Online
Book your tax appointment online or call 850-725-5696. Look at our appointment calendar on your computer, tablet or smartphone. Access appointment details like specific notes & appointments. Everything you need is right online.
McVay Business Services
28 Ways to Stop Wasting Money
It's a pretty good bet that you have leaks in your budget—car insurance that costs too much, bank account fees, home-energy wasters or ...
Kiplinger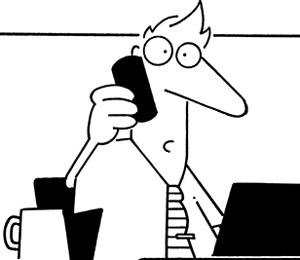 "My boss promoted me to Plant Manager. I get to water his fern while he's out of town."


Copyright © Randy Glasbergen
Trivia
In 2010, which company reportedly bought the domain name of a farm bureau for $8.5 million, clearly interested in the F and the B?
See the answer below.
What Year Was It?
War in Iraq Begins
The United States, along with coalition forces primarily from the United Kingdom, initiates war on Iraq.
The day was Mar 19. What year was it?
Quote of the Week
"Get five or six of your smartest friends in a room and ask them to rate your idea."
Mark Pincus, Zynga CEO
Trivia Answer
In 2010, which company reportedly bought the domain name of a farm bureau for $8.5 million, clearly interested in the F and the B?
Answer: Facebook
SUBSCRIBE TO OUR NEWSLETTER
NEWSLETTER ARCHIVES