May 22, 2019
Major Marketing Trends for 2020 and Beyond
Can you believe it's almost 2020? When I began my marketing career over a decade ago in 2009, I could hardly imagine what I'd be doing today as a marketing leader at an enterprise organization especially with technology ...
Entrepreneur
7 Tips for Network Marketing Success
You probably have an image firmly planted in your mind of what network marketing (also known as direct sales or multilevel marketing ...
Entrepreneur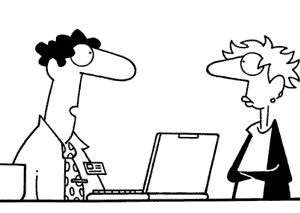 "What software would you recommend to give my presentation so much flash and sizzle that nobody notices that I have nothing to say?"


Copyright © Randy Glasbergen
Quote of the Week
"Great companies are built on great products."
Elon Musk
Trivia
To celebrate its one-hundredth anniversary in 1860, what did the Lorillard Company put at random in packages of it Century brand of tobacco?
See the answer below.
Stephanie Baldwin
Creative E-Concepts
Windham, NH
www.creativeeconcepts.com
sales@creativeeconcepts.com
The articles in our publications come from many sources. We do not endorse information or opinions appearing in linked articles. The articles selected are not sponsored, and we assume no responsibility for the accuracy of the information. Copyright for linked articles belongs to the linked source.
A Newsletter Station Publication
© All Rights Reserved.
Trivia Answer
To celebrate its one-hundredth anniversary in 1860, what did the Lorillard Company put at random in packages of it Century brand of tobacco?
Answer: $100 bills