Apr 7, 2021
Engaging Articles and News Stories
Your newsletter includes links to several engaging articles designed to appeal to your clients. The articles are automatically updated each week so you'll always have timely and interesting content to pass along.
Conduct an Effective Interview
The personal interview is your chance to really get to know your prospective employees. You'll be delving deeper into the skills and requirements you've noted on the resumé and phone screening. Mostly, the interview allows …
The Hartford
Overcome Red Flags on Your Resume
Landing a job is never easy — but a resume full of red flags makes it even harder. What does it take to win over an interviewer if you've …
Harvard Business Review
Your Own Custom Ads
Your newsletter includes custom ads built for you to showcase offers, promotions, activities, events or anything you wish.
Entertaining Cartoon, Trivia, and Quote
Your newsletter includes content to engage and entertain your clients.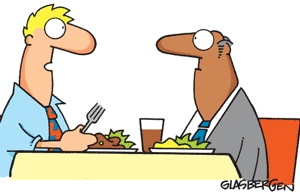 "I'm looking for a mentor who will show me how to get rich without boring me with a lot of advice."


Copyright © Randy Glasbergen
Quote of the Week
"It is not from the benevolence of the butcher, the brewer, or the baker that we expect our dinner, but from their regard to their own interest."
Adam Smith
Trivia
In the 1970s, 'The Chicago Boys' were a group of 25 economists working under which South American dictator's administration to create a free market economy?
See the answer below.
Subscribe and Archives Links
Your newsletter includes links to a subscribe form to grow you list, and a link to your past newsletter archives.
SUBSCRIBE TO OUR NEWSLETTER