Oct 20, 2021
Why Employees Are Your Smartest Long-Term Investment
In business, there are what I call "microquakes" and "macroquakes". The former are low-intensity events, rarely felt beyond their epicenter (the place of business or area in which it occurs). These might include, say, electrical …
Entrepreneur
Altius Search Group
We specialize in recruiting top-talented individuals while facilitating every step of the recruiting process. We are committed to your success and long term goals.
Contact us Today! 503-706-6098
A transactional approach to power
Transactional has become something of a dirty word in the business world. It suggests a short-term, one-off mindset and a commoditized …
Strategy+Business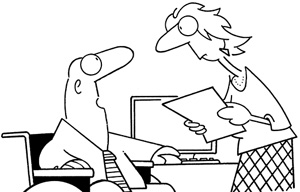 "I'm not disabled or differently-abled or specially-abled or exceptionally-abled. I'm an accountant in a wheelchair."


Copyright © Randy Glasbergen
Guggenheim Museum Opens in New York City
On New York City's Fifth Avenue, thousands of people line up outside a bizarrely shaped white concrete building. It was opening day at the new Guggenheim Museum, home to one of the world's top collections of contemporary art.
The day was Oct 21. What year was it?
Quote of the Week
"Success is going from failure to failure without loss of enthusiasm."
Winston Churchill
Trivia
In economics, what type of commodity is a Giffen good which violates a cardinal law?
See the answer below.