Nov 25, 2020
Successfully Onboard Remote Employees Virtually
Remote working has taken the world by storm, and as companies grow, they will need to hire off-site workers. Getting those new employees onboarded, however, can be a challenge. Businesses can't necessarily rely on the …
All Business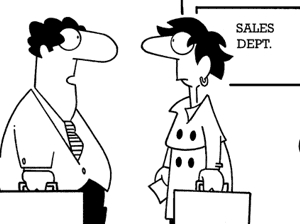 "I'm not saying I believe in Global Warming, but have you noticed it's getting harder to make cold calls?"


Copyright © Randy Glasbergen
Mousetrap Opens In London
"The Mousetrap," a murder-mystery written by the novelist and playwright Agatha Christie, opens at the Ambassadors Theater in London.
The day was Nov 25. What year was it?
Quote of the Week
"Be undeniably good. No marketing effort or social media buzzword can be a substitute for that."
Anthony Volodkin, Hype Machine founder
Trivia
What renowned company based out of California made significant contributions to modern-day computing by inventing laser printing, Ethernet, and the graphical user interface (GUI) paradigm, among other things?
See the answer below.