May 27, 2020
It's Time to Skip the Formal Interview
Whether as a candidate or as a hiring manager, every professional has experienced an awkwardly formal job interview. There's always a stiff handshake, followed by a long sequence of basic questions and rehearsed answers …
Inc.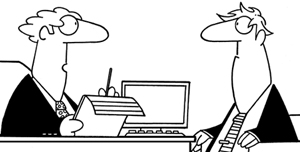 "Is it better to invest during a bull market or bear market? Depends... would you rather be gored or mauled?"


Copyright © Randy Glasbergen
Mount Everst Conquered
Edmund Hillary of New Zealand and Tenzing Norgay, a Sherpa of Nepal, become the first explorers to reach the summit of Mount Everest.
The day was May 29. What year was it?
Quote of the Week
"I don't want yes-men around me. I want everyone to tell the truth, even if it costs them their jobs."
Samuel Goldwyn
Trivia
Woolworth's 5-and-10 cent store chain was founded in 1879. For how long did 10 cents remain its top price?
See the answer below.