Apr 1, 2020
Why You Should Become an "Intrapreneur"
If you answered "yes" to these questions, you are probably already job crafting, which is defined as the ability to make your job …
Harvard Business Review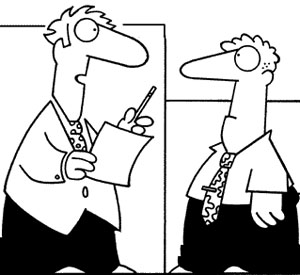 "The reorganization still needs some fine tuning. Until further notice, you're a fern in our reception area."


Copyright © Randy Glasbergen
President Reagan Shot
President Ronald Reagan is shot in the chest outside a Washington, D.C., hotel by a deranged drifter named John Hinckley Jr.
The day was Mar 30. What year was it?
Quote of the Week
"The growth and development of people is the highest calling of leadership."
Harvey S. Firestone
Trivia
On a hunting trip in the Alps in 1941, George de Mestral was intrigued by burdock burrs (seeds) that kept sticking to his clothes and his dog's fur. After subsequent observations and trials, what did he invent?
See the answer below.