Nov 13, 2019
Why Hiring Is a Lot Like Picking Stocks
Hiring people is a lot like picking stocks. It's all about the narrative. We begin by asking "what kind of stock is this?" Is it best-in-class, with strong positioning in the market and consistently solid results; a turnaround …
Harvard Business Review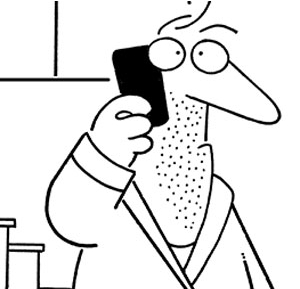 "Please moan into the phone. A nurse will determine if you are too sick to work today or just faking it."


Copyright © Randy Glasbergen
Terry Waite Released
Shiite Muslim kidnappers in Lebanon free Anglican Church envoy Terry Waite after more than four years of captivity.
The day was Nov 18. What year was it?
Quote of the Week
"A budget tells us what we can't afford, but it doesn't keep us from buying it."
William Feather
Trivia
The American inventor Douglas Engelbart is best known for inventing which ubiquitous 'clicking' device?
See the answer below.