Feb 20, 2019
The Real Reason Your New Employees Keep Quitting
Being the new kid is never easy. Stepping into unfamiliar territory where friendships, cliques, and hierarchies are in place can feel like being a teenager all over again. Except you're not fifteen and high school was a long ...
Inc.
Solving teething problems in startups
Hitches, challenges, failures, disappointment; these are many more are part and parcel of the human experience that extends to business ...
The Startup Magazine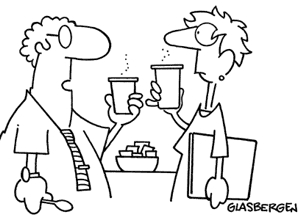 "I was floating in a tunnel toward a very bright light and then a voice told me I had to go back and finish listening to the presentation."


Copyright © Randy Glasbergen
Quote of the Week
"Always look for the fool in the deal. If you don't find one, it's you."
Mark Cuban, AXS TV chairman
Trivia
In the 1970s, 'The Chicago Boys' were a group of 25 economists working under which South American dictator's administration to create a free market economy?
See the answer below.
Joanne Stelmack
Continuiti National HR Staffing
55 Madison Avenue, Ste 400
Morristown, NJ 07960
866-212-8300
The articles in our publications come from many sources. We do not endorse information or opinions appearing in linked articles. The articles selected are not sponsored, and we assume no responsibility for the accuracy of the information. Copyright for linked articles belongs to the linked source.
A Newsletter Station Publication
© All Rights Reserved.
Trivia Answer
In the 1970s, 'The Chicago Boys' were a group of 25 economists working under which South American dictator's administration to create a free market economy?
Answer: Augusto Pinochet