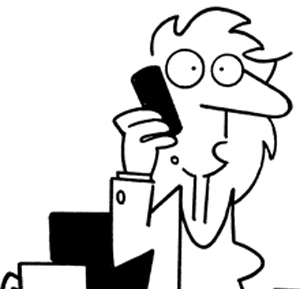 "I have to work late again, but don't worry - I outsourced our love life to a couple in India,"


Copyright © Randy Glasbergen
Trivia
From the Arabic for 'to make known', what is the correct term for a duty imposed on foreign goods?
See the answer below.
How to Mend a Work Relationship
Workplaces are communities, built around the relationships we have with our peers. When these relationships are …
Harvard Business Review
What Year Was It?
Alamo Defenders Call for Help
In San Antonio, Texas, Colonel William Travis issues a call for help on behalf of the Texan troops defending the Alamo, an old Spanish mission and fortress under attack by the Mexican army.
The day was Feb 24. What year was it?
Quote of the Week
"If at first, you don't succeed, try, try again. Then quit. There's no point in being a damn fool about it."
WC Fields
Trivia Answer
From the Arabic for 'to make known', what is the correct term for a duty imposed on foreign goods?
Answer: Tariff
SUBSCRIBE TO OUR NEWSLETTER
NEWSLETTER ARCHIVES